by Leow Wee Kheng

espite Singapore's short history, it has a rich cultural heritage that is not always known to the general public. The aim of the digital cultural heritage programme at the National University of Singapore's Department of Computer Science is to make cultural heritage easily accessible and engaging to the general public — to harness cultural heritage and turn it into cultural capital.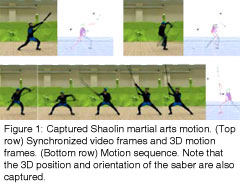 The programme has an interesting history itself. It began when Mr Chan Chow Wah, an anthropologist with the organization Cultural Compass (www.culturalcompass.org), approached our colleague Dr Terence Sim, an expert in face recognition. Mr Chan wanted to verify the identity of a person in an old photograph and asked Dr Sim if his face detection algorithms could help. After some discussion, we realized that we could do much more than face recognition. We decided to apply a suite of media technologies to tell the story of a historical personality in an authentic historical setting.
Cultural Compass runs tours at Singapore's Lian Shan Shuang Lin Monastery, a Buddhist monastery established in 1902. The monastery is associated with a particularly interesting personality: Venerable Gao Can, who brought Shaolin martial arts from China to Singapore just after World War II. He was appointed the 12th Abbot of Shuang Lin Monastery in 1948, and he taught martial arts to many lay students at the monastery. After he passed away in 1960, Venerable Gao Can's martial arts students continued to train and to transmit his teachings. Today, martial arts schools around the world claim a lineage to the Venerable Gao Can.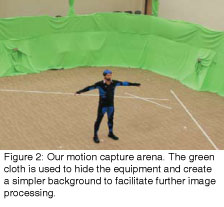 Following lengthy consultations with Mr Chan, we embarked on a project to digitally recreate the martial arts forms taught by Venerable Gao Can. This involved capturing the body motions and facial expressions of martial arts experts in action. We organized a week-long motion capture event in early June at the School of Computing, transforming one of our large classrooms into a motion capture studio. With the support of Singapore Shaolin Martial Arts Association (新加坡少林国术总会) and sponsorship from United BMEC (www.unitedbmec.com), we captured several martial arts forms performed by students in the lineage of Venerable Gao Can (Fig. 1), using an Eagle motion capture system (Fig. 2) from Motion Analysis Corporation.
The motion capture event was a great success. We not only captured the martial arts forms, but also explored the limit of the motion capture system's capability by tracking the finger motion of a guitar player (Fig. 3). This was the largest motion capture digitization ever carried out in Singapore and it was truly an exciting event for everybody involved.
Inspired by this project, we are considering possible extensions. For example, in addition to generating realistic animation of martial arts forms, we could also create a virtual model of Shuang Lin Monastery as it was in the past. Using an advanced multiple camera-projector system, we could then present the recreation in an immersive and interactive environment at relatively low cost.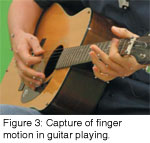 Our goals from the research point of view go beyond creating digital content using existing tools. We are also trying to develop novel technologies. One particular research challenge is to recreate colorful digital content from a small number of black-andwhite photographs in an efficient manner. Another challenge is to develop advanced human-computer interaction techniques to make best use of the digital content. For example, we are exploring immersive display environments where voice and gesture recognition, processed in real-time or near real-time, can be used to interact with the digital content. These project activities will occupy us for the next year or two.
Our department is well suited to take on these challenges because it combines expertise in a wide range of technological areas including computer graphics, computer vision, and human-computer interaction. Moreover, we find this an excellent opportunity to apply digital media technology to help preserve and convey Singapore's cultural hertitage. Early records of cultural heritage take the form of oral histories, black-and-white photographs and, in some rare cases, black-and-white films. By applying creative media technologies to such records, the country's cultural heritage can be brought to life.

Click here to download the full issue for USD 6.50