by Harry SEAH

ingapore's national water agency, the Public Utilities Board (PUB), carries the responsibility of integrating management of the nation's water supply. From the moment rainwater falls, it flows into the catchments; a network of drains and canals collects and channels the water to the reservoirs for storage. Water from the reservoirs then undergoes treatment to render it safe to drink in homes and industry. The network of sewers serving the whole island collects used water and purifies it via membrane technology to produce NEWater, which then gets channelled to the industry as an alternative supply or is reintroduced into the reservoirs for recharge (Figure 1).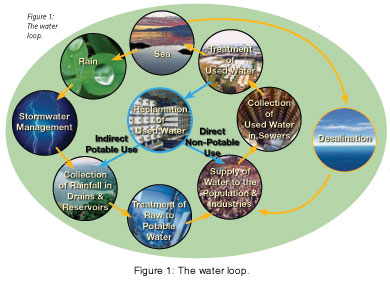 R&D Goals
To ensure a safe, sustainable, and continuous supply of water to all Singapore, PUB actively performs research and development (R&D) in water technologies with the following objectives in mind.
Increase Singapore's water resources

Since the 1970s, PUB has worked to develop non-conventional sources of water with the purpose of increasing Singapore's resources. With the advancements made in water technology, PUB successfully introduced NEWater in 2002, followed by desalinated water in 2005. Today, those working to increase the nation's water resources continue tirelessly, and the development of catchments once deemed too challenging testifies to this fact. For example, the Marina Barrage located in the Central Business District and the Punggol-Serangoon Reservoir Scheme in the North-East will increase the total catchment area in Singapore from about half to two-thirds in 2009. With improved treatment technology, PUB can now economically treat the water collected from these highly urbanised catchments to meet drinking water standards.

Reduce production cost

PUB conducts R&D to improve the efficiency of operation and maintenance work at various installations. By improving the use of resources such as labour, chemicals, electricity, and water, PUB strives to ensure that costs remain competitive in the face of challenges posed by urban development. To ensure greater environmental sustainability, efforts to improve the efficiency of current and new technologies have become more significant. Today, PUB actively carries out R&D in areas such as osmotic membrane bioreactor, membrane distillation, and integrated anaerobic-aerobic used-water treatment processes to lower energy use and cost.

Manage water quality

With more stringent water-quality standards imminent, water utilities can no longer merely improve treatment processes. A simultaneous drive has begun to keep on improving existing water-quality monitoring and analytical techniques. Coupled with the growing awareness of emerging contaminants and the possibility of events related to contamination from outside the system, the demand exists to increase the speed and sensitivity of contaminant detection. By doing so, utility operators can ensure that the drinking water that they supply is safe. In this area of work, PUB actively collaborates in both local and international projects to develop more sensitive and reliable analytical methods and instrumentation.

Support the strategies of the Environment and Water Industry Development Council (EWI)

Since May 2005, the EWI has been developing local industries in environmental and water technologies (EWT). The Singapore government has singled out EWT as a sector promising high economic growth. PUB supports the EWI by making available its R&D facilities in water technology. PUB also provides advice and collaborates with the EWT industries to ensure that such R&D work applies to end users.
R&D Strategy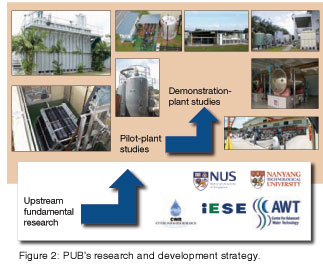 The PUB's approach to R&D spreads through three levels (Figure 2). Upstream where fundamental research occurs, the agency occasionally collaborates with tertiary and research institutions in projects with potential application at its facilities. Concurrently, the Centre for Advanced Water Technology, PUB's in-house research arm, also conducts research in water analytics, advanced water-reuse technologies, and water-resources management.
Beyond fundamental research, PUB works closely not only with tertiary and research institutions, but also with the private sector to bring their research work into the field by allowing the use of existing PUB facilities for the test-bedding of new technologies. In this way, new technologies are tested in actual environmental conditions, a key step towards the eventual application and commercialisation of the technology.
For this stage of research, PUB has about 150 officers in six technology groups — Intelligent Water Management, Membrane, Network Management, Used Water Management, Water Treatment, and Water Quality — to help with the transition from fundamental work to test-bedding and pilot- or demonstration-scale studies as well as to develop studies to solve or improve daily operational issues. It will, pending the outcome of such studies, then consider the implementation of these technologies in its daily operation.
PUB conducts R&D in all areas of the water loop. It identifies problems and seeks solutions through R&D, pilot-scale studies, and test beds. It does so in close collaboration with partners from the research community and from the private sector to ensure a safe and sustainable water supply for everyone in Singapore.

Click here to download the full issue for USD 6.50