by Lay Leng TAN

new avian influenza vaccine has shown great effectiveness in protecting humans against the dangerous H5N1 virus, a virulent bird-flu strain that has claimed more than 160 lives worldwide since 2003. Baxter Healthcare Asia has announced preliminary results from its Phase I/II trial of whole-virus H5N1 flu vaccine developed with cell culture technology.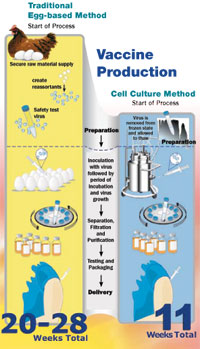 The company tested a candidate vaccine, developed with a Green Monkey Kidney Cell Line (Vero) technology in its Austrian research and development centre and produced in its Czech Republic manufacturing facility, on 270 healthy adults in Singapore and Austria. A total of 115 volunteers were recruited in Singapore from Changi General Hospital and National University Hospital.
The trial used four different formulations with antigen concentrations of 3.75 micrograms (µg), 7.5µg, 15µg, and 30µg. Researchers used an adjuvant, an additive to enhance the immune response, in each case. They also tested 7.5µg and 15µg concentrations without adjuvants.
The vaccine demonstrated 70-90% effectiveness in inducing antibody levels against H5N1 that are considered to be associated with protection, indicating high immunogenicity even at the lowest dosage. Furthermore, the non-adjuvanted 7.5µg and 15µg formulations show more immunogenic responsiveness than those with adjuvants.
Analysis of subjects' serum samples found deactivation of the pandemic virus as well as cross-neutralisation against other strains of the H5N1 virus, including the Hong Kong and Indonesia versions. The test subjects showed few side effects other than the usual inflammation reaction at the injection sites, headache, and fatigue, as in already licensed interpandemic flu vaccines.
Noel Barrett, vice president of Global R&D for Baxter's vaccine business, reveals that the proprietary cell-based culture production platform has a number of advantages over the current egg-based production method for making vaccines. It circumvents the constraints of raw-material supply — in this case, chicken eggs — easily affected if a bird-flu pandemic occurs in chickens. The traditional egg-based model requires attenuation, or weakening, of the virus to ensure that the embryo remains unaffected such that the virus can replicate in the egg medium. Moreover, some people have allergic reaction to chicken and eggs and thus cannot accept such vaccine.
Polio vaccine has been using the Vero cell culture method for 25 years so the safety record is good. Furthermore, Baxter's Vero technology employs a well-established cell line derived from Green Monkey kidney cells to produce vaccine in a unique serum-protein-free medium. The company has successfully grown wild-type or natural viruses in its Vero cell culture, eliminating the lengthy process involved in culturing attenuated viruses. With this method, technicians thaw a frozen vial of seed or starter virus and inject it into a bioreactor, where it grows and reproduces. They then harvest, inactivate, purify, and test the virus before formulation. This whole process takes about 11 weeks, compared to the 20–28 weeks needed for the egg-medium method.
Although the cell culture methodology has been around for a quarter century, manufacturers have been unable to produce vaccines with the existing process. Baxter's animal-free medium allows successful formulation of the vaccine with the cell culture approach, the first in the world.
The wild-type virus and the cell culture process the firm uses most likely contributes to the high immune response elicited in the subjects and the vaccine's broad immunogenic nature, says Barrett. Compared to other developed vaccines that employ fragments of H5N1 virus, Baxter can use whole virus and recombinant single-protein vaccine thanks to its stringent Biosafety Level 3 facilities to handle virulent microorganisms.
The company's facility in the Czech Republic has state-of-the-art equipment and procedures to ensure efficient and safe production of the vaccine at high yield. With a capacity of 6,000 litres, it can manufacture two million doses per week. In comparison, the egg approach will require a huge number of eggs to ramp up production.
Baxter plans to start a Phase III clinical trial of the vaccine in early 2007, using about 600 young and older subjects. In addition, the company plans to test clade 2 strains of bird flu such as the more dangerous Fujian strain.
Working with the US National Institute of Allergy and Infectious Diseases, in partnership with Fisher BioServices Inc, as well as with the US Department of Health and Human Services in conjunction with DVC LLC, Baxter hopes to develop cell-based pandemic and seasonal flu vaccines further. The collaborations will provide the opportunity to do clinical trials with the vaccine in the US, which were initiated in late 2006.
The healthcare firm is in discussion to provide the vaccine to a number of countries. It has received an order to supply 2 million doses of the H5N1 vaccine from the governments of the United Kingdom and Ireland. The company has also signed an agreement to provide Austria with an option to purchase 16 million doses of vaccine in the event of a pandemic.

Click here to download the full issue for USD 6.50