Award of Excellence
School of Horology
Szue Hann Tan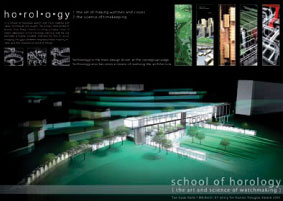 Tan, who holds First Class Honours in Architecture at NUS and is currently pursuing a Masters of Architecture in a joint NUS and University of California Los Angeles (UCLA) programme, wants to create better environments in which to live, work, and play. In doing so, he assesses these environments' cultural backdrops and incorporates new architectural technologies that complement them.
The School of Horology, a breakthrough design for a specialised field that involves great precision and watch making, represents one such project. In conceptualising the project, Tan disassembled a watch and analysed its constituent parts. He then analogised each part's function with a functional school space. He equated the watch face and hands with the school's gallery space because both display information. He compared the core of the watch, the energy-storing mechanism, to the library -- the "storage" space. He incorporated these into an elegant structural form that integrates concept and reality.
In School of Horology, the designer explores a theme both traditional and contemporary -- the perception of time in a spatial context. In its engagement with site and culture, the project offers a chance to rethink the role of technology and the importance of inventiveness in an Asian intellectual context.
The judges deemed the project sophisticated and innovative in that the design incorporates technology both as a conceptual driver for the building and as a means of realising the intricacies of complex design. Since horology constitutes a field deep-rooted in both tradition and inventiveness, the school's architecture manifests that inventiveness.
In 2005 the project also garnered the Hunter Douglas Award for Innovative Use of Technology in Architecture and a nomination for the Royal Institute of British Architects' (RIBA) President's Medal.