esign is an overused word, laments Toshiyuki Kita. Until now, people have equated design with appeal, colour, and shape. But emphasis now falls more and more on attraction, ecology, economy, and innovation in addition to form and function. An object's creator should consider nature and the environment, as well as individual lifestyles, asserts Kita.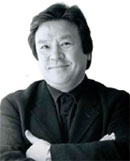 The designer, billed as one of the top 40 worldwide, is best known for his tableware, luminaries, and furniture. Numerous art museums around the globe have his primary-coloured masterpieces such as Wink chair and Kick table on permanent exhibit -- the Museum of Modern Art in New York, the Centre Georges Pompidou in Paris, and Museum fur Kunst und Gewerbe in Hamburg, to name a few. He has also put his stamp on such technological items as the popular Aquos liquid-crystal-display television by Sharp Electronics Corp.
As a furniture designer in Italy, Kita earned the reputation as one of the "most European" of Japanese designers. His cheerful and avant-garde style combines animation with functionality, aesthetics with user friendliness. Despite a seemingly modern flair, he believes in retaining a design's cultural uniqueness. Revisiting his roots, he has taken up washi (Japanese paperwork) and urushi (Japanese laquerware) in his more traditional and contemplative work.
An active and respected designer of environments, interiors, and products, he works recycled, reused, and environmentally friendly materials into his projects. For example, he uses only biodegradable raw materials or those reusable by heating -- such as metal parts crafted from non-anodised aluminium that melts at about 660ºC.
He advocates melding these considerations into the design process, a complication he does not deem insurmountable. "Design is how you can harmonise all these factors into a single cross point. If you ask me what a design is in one word, then I say it is harmony." If a design does not receive wide acceptance, it probably suffers from some problem such as lack of appeal, safety failure, or other factor, he adds.
Kita's work targets everyone, not just specialised niche groups. "I believe designs have to focus on the enrichment of the people's lives as well as the balance of nature."
A designer must incorporate three points of view because a good design pleases three parties. First, of course, is the consumer who buys and uses the products. Second comes the distributor or marketer who sells the merchandise. Third is the company or manufacturer whose business success depends on sale of the items. If the product does not hit big, the company will suffer. Designs thus have to fit into the culture of the target market while sustaining attractiveness and saleability.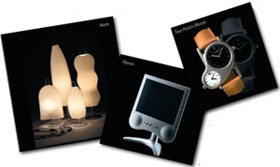 Kita foresees that design will soon become a leading benefit influencing a country's economy and industry. Many countries now give design a high priority as a major resource. For Singapore, design may, with the financial sector, become one of the two main pillars of the economy. As in technology, innovation plays a key role in design, especially for Singapore where the benefit to the manufacturer of the product becomes a core value of the economy.
The nature-lover finds design analogous to a beautiful flower, which needs good soil and care. The soil represents people's daily lifestyles that nurture a design, such that the work becomes a means of communication and adds vibrancy to life. People feel happy surrounded by well-designed spaces and objects.
How does a culture or geography maintain design uniqueness in this age of globalisation where boundaries blur? Because of such pervasive technology as air travel, the Internet, and mobile telephones, populations worldwide increasingly share many common values including aesthetics. The culture of each region or people must retain its identity to stand out. Two trends therefore coexist in the global community -- one is the move towards commonality while the other presses to preserve identity. Thus, each member of the global design community needs to innovate while maintaining individuality.
Kita feels strongly that Singapore will soon generate good design because of the cross-fertilisation of Eastern and Western cultures and their diverse ethnicities. Thanks to the country's compact size, information is easily accessible. Global exposure positions it well to look towards future information and products.
Like all the world's metropolises, however, the island city faces a challenge to balance usable space with preservation of nature and the environment. Because Singapore lacks natural resources, its assets must become design in addition to technology and finance.
Kita, a member of the DesignSingapore International Advisory Panel, says that participants at the body's meeting held in November 2006 confirm the importance of design to Singapore and has identified three areas on which to focus: inculcating a creative learning culture; promoting design as a new value creation for businesses; and developing a strong design ecosystem.
He emphasises that these three are equally crucial. People must understand what design is and its importance before they can implement it successfully. Singapore has to decide quickly the value-add it can create in this arena as much of the world has already realised the significance of design.
"Design is a happy industry because if you design a good thing, consumers' lives become enriched, the company gets rich, and the distributor is happy." Kita sees Singapore becoming an exporter of design and indirectly an exporter of happiness. This concept suits the country because it sustains a lushly green and comfortable environment.
All other things being equal, design makes the difference to a product -- the fashion industry representing the epitome of such enterprise. Consumers think the same way when buying home products that fit their lifestyles. For example, a well-designed dining set shows the hosts' respect of and the importance they accord their guests. The items can vary in cost to accommodate what users can afford.
The home can be the best place to inculcate design. If buyers expect a certain desirable quality in the goods they purchase, demand will force producers to make good design necessary, regardless of price. The city planning and design of urban Singapore impresses Kita; the green space and landscaping justify its title of the Garden City. He also admires many condominium and apartment features and the unique architecture of the hotels.
Singapore Design
He observes that not many new cities are as detail-oriented as the island state. When people have a free hand with their own land, they tend not to build according to the landscape and functions a city planner may prefer. In traditional cities in Japan such as Kyoto, design was well thought out and coordinated. However, modern cities demonstrate little coordination. He praises Singapore's Urban Redevelopment Authority for having done well with a high degree of building planning and maintenance, especially in conserving older structures.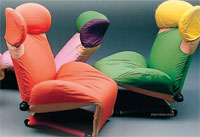 What constitutes a good design? Kita says: "If I have to put it in one sentence -- the good balance of all elements. However, elements change over time, so designers always have to review what needs to change." When technology or lifestyle alters, design has to adjust accordingly.
He selects the Apple iPod as a consumer product with impact that has revolutionised technology and design. The hybrid car Toyota Prius constitutes another design he appreciates for its energy efficiency and elegant finish.
From what source does Kita draw his inspiration for innovative work? "I always think about how to make people happy and satisfied." Asked whether a system exists to make the design process more structured or easier, he replies with an emphatic no. He explains: "I consider design a filter within a society. A designer has to put in the effort to become a good filter as well as have empathy and consideration for other people."
He advises people interested in pursuing a career in design to broaden their perspectives -- to see and appreciate many good things, to communicate with many people, and most importantly, to live and breathe within a society to experience some commonality with the masses. They must consciously aim for that heightened sense of a good lifestyle to make the world better via their work. Only through such exposure will they achieve that ability.
In the future, global environmental concerns and an ageing society will figure critically in design. "We have to make a product more diverse to cater to both ageing and young populations," Kita says. The concept of a universal design plays a major and relevant role here.
Finally, to reduce waste and promote recyclability and sustainability, "we have to make something special that compels people to keep and treasure instead of discarding," he stresses. Coming from the master holding a philosophy of bringing happiness to the world while living in harmony with nature, this concept indeed makes perfect sense.

Click here to download the full issue for USD 6.50