esign alters and improves lives, inspires creativity, and stimulates new forms of expression. It also enhances business competitiveness in today's crowded marketplace.

Design Singapore represents Singapore's response to these opportunities. As a national initiative, it aims to place Singapore at the centre of design creativity. The initiative plans to develop a thriving, multidisciplinary industrial and activity cluster with relevance and global impact. It also seeks to bring design to business boardrooms, new audiences, and markets, and in time establish a pervasive and unique design culture.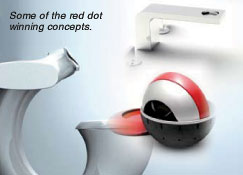 The Ministry of Information, Communications, and the Arts set up the DesignSingapore Council in 2003. The council works closely with other governmental agencies, the design community, industry, and educational institutions to promote design in business and education and to develop Singapore as a leading international centre.
Members of the DesignSingapore Council comprise leaders and individuals from various industry stakeholders, the design community, and government. It serves as a common platform to write the national design agenda and to coordinate implementation of the initiative. The International Advisory Panel includes such prominent figures as Christopher Bangle (BMW Group, Germany), Toyo Ito (Toyo Ito Architects, Japan), Toshiyuki Kita (IDK Studio, Japan), and Richard Seymour and Dick Powell (SeymourPowell, UK).
The Council aims to put Singapore firmly on the design map via its support. It charts and spearheads the national design direction; coordinates the resources of various agencies, institutions, and industry in promoting and developing design excellence; and establishes a strong network between Singapore and the international design community and stakeholders.
Singapore's Strengths
Lest people think of Singapore as merely a clean, orderly city devoid of creativity, the time has come to revise this opinion. The country has become a design powerhouse to reckon with, thanks in part to several advantages that underlie its uniqueness.
Diversity
Singapore boasts a racially and culturally diverse population numbering four million within a compact geography. With one person in four between the ages of 25 and 35 an expatriate, a diverse mix of experience, aspiration, and capability fuel creativity. Excellent museums and arts venues serve as platforms for attracting and displaying an abundance of international festivals and events.
Creative buzz
A constant buzz prevails in the design scene, due in part to year-round events such as exhibitions, competitions, workshops, conferences, and award ceremonies. The products of Singapore-based design teams and independent design houses have won rave reviews, as well as amassed international industrial-design (ID) awards.
Design rendezvous
Many ID companies and related service providers operate within the island city. Unlimited opportunities abound for designers — corporate design teams, design users and manufacturers, independent design houses, design institutes, intellectual property (IP) service providers, and prototyping houses.
East meets West
As a confluence of ideas and insights from both East and West, Singapore serves as a natural hub for global business. An exciting lifestyle complements a penchant for hard, serious work, making the country a preferred location for business and enterprise. The island's physical and information-technology infrastructure, reliable connectivity, transparent commercial practices, and strong free-trade network have attracted over 7,000 multinational corporations and 130,000 foreign small- and medium-sized enterprises. The convergence of global talent and multiculturalism stimulates colourful variations and creativity in the design milieu.
Design commitment
To support Singapore's commitment to creative-industry growth, the government's investment strategy involves laying out S$200 million from 2004 to 2008. The Economic Development Board and the DesignSingapore Council are rolling out the red carpet for local and overseas investors keen on setting up design ventures on the island.
Blazing the Trail
Exciting activities and initiatives rev up Singapore's design scene, promoting and developing creative industries. These range from awards to festivals to cultivating a vivacious ID ambience.
red dot design awards
The world-renowned Germany-headquartered red dot design awards established its red dot design museum and creative hub in Singapore — an expression of its confidence in the country's potential. In its first-ever overseas foray, it also launched the red dot award: design concept, managed entirely by the Singapore office. This international competition attracted over 630 entries from more than 32 countries in its inaugural competition. (See "Red Dot Awards Fresh Ideas" in this issue.)
Singapore Design Festival
The Singapore Design Festival organised by the DesignSingapore Council takes place biennially. The venue facilitates the meeting of local and international design communities, with over 130 events and 80 international partners across a broad range of activities such as conventions, trade exhibiti
President's Design Award
The President's Design Award, Singapore's highest honour for designers, recognises the best in design in Singapore. It reinforces the country's conviction of the importance of creating valuable IP, a key driver of competitiveness and creativity.
Activity Matrices
In addition to specific programmes, abundant cross-disciplinary and multidisciplinary schemes and activities enhance ID capabilities. These include design scholarships and such collaboration as the bilateral cooperation with the Korea Institute for Design Promotion. The DesignSingapore International Advisory Panel, comprising luminaries from the creative fields, also helps ensure that Singapore continues to encourage its creative industry.
The annual DesignSingapore Lecture Series organised by the Singapore Institute of Architects features outstanding high-profile designers who have made significant contributions to international society. World-acclaimed architect Frank Gehry delivered the inaugural lecture on his most recent work in 2006.

World Recognition
Singapore's design community has earned accolades worldwide. Some products have made it into the halls of fame of the design Oscars, such as Germany's iF Design Award and the red dot award, as well as Japan's G-Mark Good Design Award.
Singapore's institutes of higher learning serve as nurseries to encourage, inspire, and nurture young designers and design entrepreneurs. The enthusiastic novices' passion and originality shine in local and international design competitions. (See various award winners in this issue.)
ID Support
Services revolving around design such as prototyping and full-range IP support Singapore's growing creative industry. New product designs flow smoothly and efficiently from concept through development, prototyping, and testing to commercialisation without compromising security or safety. Local prototyping firms like Arrk Product Development Group, 3-D Prototyping, and GenCast Design offer a full menu of services from development and design of products to production and marketing services.
Singapore's stringent regulation of IP ensures the safety and protection of designs and creations. The sharp rise in the number of patent, trademark, and ID registrations, coupled with the burgeoning number of companies setting up research and development centres, shows individual and industry confidence in the nation's secure IP environment.
Singapore possesses the full value chain of expertise required to bring a concept from the drawing board to the marketplace. At the national level, the Intellectual Property Office of Singapore (www.ipos.gov.sg) takes the lead in providing the infrastructure, platform, and environment for the creation, protection, and exploitation of IP, and the Intellectual Property Academy (www.ipacademy.edu.sg) concentrates on enhancing industry expertise. Over 130 companies offer services ranging from branding, marketing, and promotion of intellectual assets to IP administration, auditing, exploitation, and portfolio management.

Click here to download the full issue for USD 6.50