by Kwang Wei TJAN

ispelling the perception that the public sector stifles entrepreneurship, eight participants from various government agencies clinched the 2005 Innovator Awards at a Singapore innovator competition, demonstrating not only promising product ideas but also convincing business propositions. The winners were Keng-Hui Lim, Cyclect Electrical Engineering Pte Ltd, the Civil Aviation Authority of Singapore, Rapid-Tech Pte Ltd, Info@SEA Pte Ltd, the Public Utilities Board, Nanyang Technological University, and environmental professionals.
An initiative driven by the Singapore Prime Minister's Office since 2000, The Enterprise Challenge (TEC) is a S$29 million fund set up to recognise innovative proposals having the potential to create new value or make significant improvements to publicservice delivery.
The Innovator Award recognises individuals and teams whose proposals have successfully secured TEC approval. The event serves to encourage openness to new and risky ideas in public agencies, as well as to harness innovations that could significantly benefit the public sector. It also helps provide platforms for innovators to showcase their ideas, to explore new sources of funding, and to attract potential business partners and customers via seminars and networking sessions.
The following highlight some of the Innovator Award 2005 winners.
Quantified Dermatology
A team comprising entrepreneur Keng-Hui Lim, National Skin Centre clinical professor Chee-Leok Goh, and National University of Singapore computing professor Wee-Kheng Leow and undergraduate Xin-Wei Aw has pooled their varied expertise to develop a skin-analysis device called DermaSys. The system enables dermatologists to quantify common skin disorders objectively for accurate assessment to replace conventional methods that employ unreliable subjective evaluation.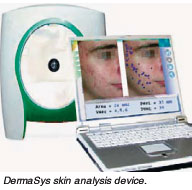 Dermatologists commonly use visualisation tools to help them magnify the skin to see skin lesions better. They also use digital photography to capture images for storage. Currently the few products providing clinically useful data for doctors analyse skin colour and transdermal water content and diagnose skin cancer (common among light-skinned Caucasians). Several devices for cosmetic application allow analysis such as degree of oiliness and pore size, but these were not designed to meet specific clinical needs.
DermaSys comprises a desktop system capable of imaging the skin in a standardised manner but at greater depth and in finer detail than the naked eye. It uses software the team developed to analyse images and to determine the relevant clinical markers for assessing treatment response, especially for disorders that heal gradually with visual changes that occur slowly. The dermatologist can modify the treatment plan immediately if necessary. The researchers have tested the software at the Singapore National Skin Centre to identify the number, size, and types of acne lesions, an exercise not practical manually. For patients with pigmentation problems, the software can track useful clinical information such as size, distribution, and colour over the course of treatment. The inventors do not know of any other product that can provide such clinical information accurately. Also under current development are applications for analysing other skin disorders.
For the hardware, the system allows highly consistent imaging of the same facial features at every visit, cutting down imaging time from five minutes to less than one. The analysis enables dermatologists to choose the most suitable prescriptions for that particular stage of skin disorder, which translates to faster patient recovery and lower cost.
The researchers anticipate DermaSys's Singapore commercial availability in late 2007. They are talking with potential United States collaborators for clinical trials on Caucasian and Hispanic patients. They are also exploring the possibility of introducing the product to the cosmetic industry to provide scientific validation of beauty and skincare-service quality.
Intelligent Foreign Object Deposit Detection and Alarm System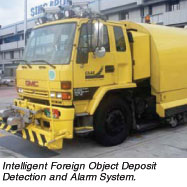 Debris such as metal pieces found on airport runways can have hazardous or fatal consequences for aircraft, as previous accidents prove. To prevent the possibility of such unwanted incidents, airport maintenance crews at major facilities around the world scan the runways five times a day, causing disruption to flights and inconvenience to passengers. Furthermore, the scanning of each runway measuring 4km long and 60m wide can constitute a painstaking process.
To improve the safety level and efficiency of runways and taxiways, Cyclect Electrical Engineering Pte Ltd, in collaboration with the Civil Aviation Authority of Singapore, developed Stratech Systems, which automates the scanning process via a series of video cameras that recognise runway debris. The new system has an additional cataloguing feature that can record the time and the exact location of the foreign-object deposits (FODs) detected as well as analyse the nature of the debris. Such information accumulated over time helps the cleaning teams better assess situations, enabling them to pay particular attention to specific location -- thus making future cleaning more effective. Airport operators can then pay more attention to spots highly prone to FODs and take precautionary measures.
The innovation behind the Stratech Systems lies in the camera-powering software known as the Foreign Object Deposit Intelligent Detection and Alarm System (FIDAS). Upon detection of any debris, the programme automatically sends an electronic alert to the control tower, indicating on a screen the position of the debris to alert a driver to sweep the object away from the specific spot, which the system pinpoints on a global-positioning map. In addition, the driver receives notification if the runway sweeper fails to pick up the object. The system detects debris in all weather conditions and effectively eliminates human error in manual recording of FOD collected.
Currently, primarily aircraft-assembly plants use the FIDAS technology. The system, the world's first FOD detection scheme, has been mounted on a runway sweeper. Once implemented, it will reduce the operating cost of inspections and sweepers, besides improving safety standards at airport runways.
Bioscaffold for Bone Reconstruction
Very often, major trauma and cancer surgery result in missing segments of jawbones or other parts of the facial skeleton. The patient needs reconstruction of such defects to resume normal body function. The best replacement parts currently come from the patient's own body, either from the leg, hip, or rib; this harvesting involves surgery on another body part, which means extra risk from possible complications.
A bioscaffold offers one way to eliminate these additional surgeries, resulting in reduced pain, faster recovery, shorter hospitalisation, and lower healthcare cost. Bio-Scaffold International Pte Ltd (formerly Rapid Tech Pte Ltd), in collaboration with National University of Singapore (NUS) researchers and Singapore Institute of Manufacturing Technology (SIMTech), has jointly developed and patented a three-dimensional printing process for resorbable materials used in the manufacturing of the bioscaffold.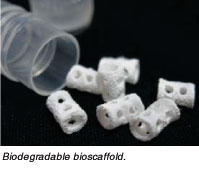 Victor Fan from the NUS Department of Oral and Maxillofacial Surgery and Tong Cao from the Faculty of Dentistry have jointly developed the scaffold design. Their scaffold can biodegrade within six months, have no toxic effects, and yet retain the necessary strength and shape to allow bone regeneration in the crucial first few months of implantation. Existing implants and reconstructive materials from titanium and other materials remain in the body, sometimes leading to inflammation and infection.
For a scaffold to be clinically applicable, its manufacturing process must be flexible enough to vary pore size so as to promote bony ingrowth while retaining necessary configuration, shape, and strength for clinical use. Both Bio-Scaffold and SIMTech have the capability to manufacture bioscaffolds differing in shape and size based on computed tomography-scan information of a patient's jaw. The inventors have successfully used biopolymer to produce accurate structures of high porosity and strength with a degradation rate optimised for the bone regeneration process -- a big improvement over conventional scaffolds. Bio-Scaffold plans to introduce the bioscaffold for applications in oral maxillofacial, aesthetic, and craniofacial reconstructive surgery.
Besides receiving the 2005 Innovator Award, the project also won NUS the TEC Enterprising Agency Award 2005.

Click here to download the full issue for USD 6.50