Skype is without doubt one of the most impactful innovations to hit the 21st century. The peer-to-peer (P2P) Internet communications company is turning the communications world on its head by offering consumers free, superior-quality calls worldwide. Something that is practically unheard of in the "there ain't no such thing as a free lunch "communication business.
Skype was founded in 2003 by Niklas Zennström and Janus Friis, the creators of P2P file-sharing application KaZaA. By working across different types of network connections thanks to the free desktop software application, Skype enables people to create the first user-driven, software-based, global Internet communications network that lets them speak to each other for free. It provides paid products that allow users to call traditional telephone numbers (SkypeOut), receive calls from traditional phones (SkypeIn), and receive voicemail messages. Skype also offers users the ability to make video calls, share information such as photos when online, send SMS messages, and develop new ways to express themselves such as personalising their ring tones and Skype profiles. eBay was so impressed by the potential of the hot start-up that it acquired the company for €1.9 billion in 2005.
INNOVATION's Lay Leng TAN taps on the amazing mind of Skype CEO Zennström to get an insight into how he established a billion-dollar enterprise within three years.
As CEO and co-founder of Skype, Niklas Zennström is responsible for building Skype into the leading Internet communications offering around the world. Since managing the sale of Skype to eBay Inc in October 2005, he is also a member of the executive team of eBay.
With a range of technology, management and entrepreneurial experience, and dubbed "The Disrupter "by Fortune Magazine's Power 25 issue in 2005, the Swede has a successful track record of creating new cutting-edge innovative businesses.
After getting a dual degree in business and MSc (engineering physics/computer science) from Uppsala University in Sweden, Zennström spent his final year at the University of Michigan in the US.
He went back to Europe and started his career at Tele2, the leading consumer-oriented pan-European telecommunications operator. After Tele2, he launched and oversaw the operations for get2net, the European Internet service provider. He was also CEO of the European everyday.com portal. The serial entrepreneur later co-founded and served as CEO of consumer software company KaZaA, the world's most downloaded Internet software to date with more than 400 million downloads. He also co-founded peer-to-peer (P2P) solutions provider Joltid and P2P digital content distribution company Altnet.
Zennström is a board member of FON, the community-empowered company dedicated to building the world's largest global Wi-fi network.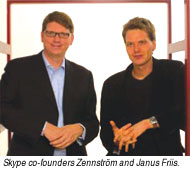 What motivated you to set up Skype and offer such a service?
Zennström: Janus [Friis] and I had worked together for some years, developing the technology that is used in Skype today. We started off using the technology for sharing music files but we knew instinctively that the applications were endless. Our background was in telecommunications but we had always worked for the "challenger" companies rather than the big incumbent. So I guess it was natural that we decided to apply our thinking to telecoms.
We started the company at a time when we knew that highquality calls using the Internet were possible but had not yet been done by anyone in a way that your average person in the street could make a call. And that's where Skype comes in. Our mission then was to let the whole world talk for free…and when we reached 100 million registered users in June this year, I certainly felt like we have made some good progress in terms of turning that vision into reality.
Did your stay in the US fan your entrepreneurial interest or was the environment in Scandinavia conducive for your various communication start-ups such as KaZaA?
Zennström: Yes, I guess my experience in the US was pretty instrumental in reinforcing the notion that entrepreneurs can be very successful. Unfortunately in Europe, I think entrepreneurs often lack the support they need. In the US, if one idea fails, you pick yourself up and start another, until eventually something sticks. And people who persevere in this way are applauded. I have tried to instill this pioneering, "can-do" attitude in the company. Those who work for Skype know that it's ok to make mistakes. If you never make mistakes or have projects that don't work out as planned, it means you are not learning anything new.
What kind of business opportunity did you see that convinced you of the potential of such a venture?
Zennström: People like talking to one another. We saw an opportunity to remove the traditional barriers for people doing this easily using the Internet and those barriers were price, functionality, and availability. And, at the same time, we knew that the technology we had been looking at to do this was moving quickly in the right direction. And when we found ourselves with 10 million users, we knew we had a business and a lot of people relying on us to make our product the best in the market.
Did you develop the technology? What extra value have you put in to commercialise it?
Zennström: The technology behind Skype was designed by a group of engineers, mostly Estonians, who are still with the company. We have continued, since Skype was founded, to develop our technology with the aim of making it incredibly easy to use. We listen to what our customers tell us — what they like and don't like — and this helps us to introduce new features that make using Skype even more enjoyable.
We are really focused on enabling the world's conversations. What this means is that today, when you make a call, it's not just about talking. It's about sharing information, for example, looking at photos or communicating in different ways by sending text messages.
What were some major challenges in the set-up process and how did you overcome them?
Zennström: Some of the major challenges in the set-up process were ensuring we could meet the demand for our product along with prioritising the development of features that our customers wanted and continue to want. This can be quite challenging when there are so many possibilities for the product we have designed and also quite an emotional rollercoaster ride at times!
How did you source for seed funding and what was your business proposition that attracted the investment?Zennström: The first round of funding was secured in October 2003 from a range of investors, including the European Development Fund. We tried to raise funding for over a year but we were not successful. Many of the venture capitalists (VCs) we met with at that time thought Skype would not work. But we believe in it; we used our own money, borrowed money (including from our friends), and began to attract more interest. We later secured funding from a number of VC companies who recognised that the world was ready for mass-produced consumer software applications and were prepared to invest in them.
What made you decide to sell to eBay? What significant changes have happened to Skype since then, and are you still in the driver's seat for the company's strategy?
Zennström: Yes, we are absolutely in the driving seat with Skype. This company has so much potential and we still wake up every day looking forward to going into work. These are exciting times. I am very much a working CEO and I have as much passion about this company today as I did when we set it up, if not more. The decision to sell to eBay made perfect sense to us. While the predictable thing to do might have been to sell to a well-known Internet service provider or another major communications company, we liked the fact that eBay created an unbeatable opportunity to link ourselves with one of the best known brands on the web.
We were impressed by the eBay management team and their humility. They were very excited about Skype becoming part of their operations because eBay experienced phenomenal growth and learned a lot as the company expanded. We also knew we could benefit from eBay's experience while continuing to develop Skype in our own innovative way.
Today, we've just announced the integration of a "SkypeMe" Button onto eBay's US website across 14 of its categories. We will be doing this across Europe as well. This means that buyers and sellers can now talk directly to one another when making a complex and expensive transaction — for example, selling a car. This is about making it easier for people to communicate with one another.
What are some game plans to ensure that the company succeeds and thrives? What are your unique value-adds?
Zennström: We will never stop innovating. Our recent announcement with respect to free Skype calls to land-lines and mobiles in the US and Canada is just one example of a move that took people by surprise…and delighted our customers.
We are also currently previewing a new product called Skypecasts. These are the equivalent of real-time discussion groups on the Internet, for up to 100 people. They are free to set up and participate; we are already seeing amazing interest in them.
We are also 100% committed to keeping Skype really simple to use. If you can't explain what we do to your mother or grandmother, then we are doing something wrong.
What are the major factors that make Skype such a hit?
Zennström: I think it comes down to simplicity and great quality. The fact that it is free is appreciated too but the truth is that, for techies, Internet calling was possible before we came along. We just made it accessible to the mass market.
What is the demography of Skype users? Do you see Asia as a huge adopter of such technology, and if so, why?
Zennström: Today Skype has 100 million registered users all over the world. Asia is one of leading markets for Skype where the use of Internet is growing tremendously. It is significantly ahead of Europe partly due to the willingness of Asians to adopt new technology, a fact that is not lost on us. In the same way that Asia leads in mobile telephony, there is strong likelihood it will do the same thing in Internet communications.
Gazing into the technology crystal ball, what do you see coming up in the communication horizon?
Zennström: We believe the future is about enabling the world's conversations. Today, Internet calling isn't just about being able to call from one computer to another. It is much more than that. It's about sharing useful information — for example, looking at photographs or using our self-expression products (such as ring tones) to personalise how you use Skype. There is so much you can do, and so much more you will be able to do. Our market is very exciting at the moment.
What do you think is the most important contributor to your success?
Zennström: I think the beauty of Skype is that we have kept the proposition simple. Most people aren't interested in the bits and bytes of the technology. They just want to be able to use it, have fun with it, and enjoy it. We have always concentrated on keeping things simple, which is what Skype is today so that everyone in the world can talk for free and do so easily.
What drives you to be a repeat entrepreneur, and what advice can you give to budding entrepreneurs?
Zennström: I think it's important to believe in yourself and ensure that your product satisfies a genuine consumer need.
What would you change in your entrepreneurial journey if you were to start all over again?
Zennström: I believe it comes down to employing really good people along the way, especially those who genuinely believe in the product.
How do you think a small country like Singapore can further its entrepreneurship push, which only began in earnest in the past decade?
Zennström: My recommendation would be to foster the spirit of innovation, and encourage investment in young people with bright ideas that can flourish.

Click here to download the full issue for USD 6.50