by Poh-Kam WONG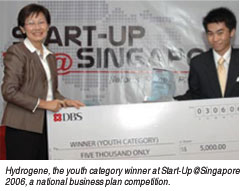 ike most public universities developed under the British Commonwealth tradition, the National University of Singapore (NUS) has in the past been following the traditional model of having teaching as its primary mission, with research as a secondary function. However, in line with the shift of national economic development strategy towards a knowledge-based and innovation-driven economic model, NUS has since the late 1990s also begun to transform itself into what Henry Etzkowitz has described as the "entrepreneurial university" model. Indeed, since the turn of the century, NUS has established a new vision of becoming a "Global Knowledge Enterprise," a dynamic community imbued with a "no walls" culture and a spirit of enterprise, which promotes the free flow of ideas and builds synergies between the processes of creating, imparting, and exploiting knowledge.
In line with this new vision, the university set up the NUS Enterprise Cluster in 2001 to inject an enterprise dimension into its core mission of teaching, research, and services. More specifically, NUS Enterprise's mission is to be an agent of change, promoting the spirit of innovation and enterprise within the NUS community, and generating value from university resources through experiential education, industry development, and venture creation.
The key divisions of NUS Enterprise include the following:
NUS Entrepreneurship Centre: The centre seeks to nurture the spirit and practice of entrepreneurship and innovation among the NUS community through education, outreach, and venture support programmes, and to advance knowledge of technological venturing practice in Asia through research. In terms of education, the centre has been conducting since 1999 a highly popular technopreneurship minor programme for all NUS undergraduates that comprises a series of entrepreneurship-related modules covering entrepreneurial marketing, business plan writing, and new venture creation process. Taught by a combination of academics and adjuncts who are experienced entrepreneurs and venture capitalists, the programme attracted over 1,300 course participants in academic year 2005–06.

Complementing the academic courses, the centre also conducts a wide range of outreach activities to create awareness and experiential learning of entrepreneurship among the NUS and larger Singaporean community. Besides regular techno-venture forums that bring entrepreneurs and venture capitalists to the campus to share their entrepreneurial insights, the centre pioneered the first nation-wide business plan competition in Singapore (Start-Up@Singapore), as well as brought a number of global business plan competitions in Singapore — the Global Entrepreneurs Challenge (jointly organised with Stanford University) and the Global Start-Up@Singapore (jointly organised with INSEAD).

Another key unit of the centre is NUS Venture Support (NVS), which provides infrastructural support for technology start-ups founded by NUS staff, students, and alumni (see page 20). Besides providing physical facilities in the form of business incubators for NUS-related spin-offs, NVS also offers a wide range of support services that add value to the start-ups, including business mentoring, facilitation of business networking, and introduction to potential investors and customers. NVS also operates a number of seed-funding programmes that provides early-stage funding for NUS-related spin-offs.

The third function of the centre is to conduct high-impact research on technology entrepreneurship and innovation management practices, through active collaboration with leading entrepreneurship and innovation research institutions worldwide, including Stanford University. The centre publishes the annual Global Entrepreneurship Monitor (GEM) study on Singapore, and develops teaching case materials on high-tech start-ups.

NUS Industry Liaison Office (ILO): The office's key roles are to manage and create value from the university's intellectual property, and to promote collaboration between NUS and industry. More specifically, it helps to facilitate the translation of new discoveries and inventions by NUS researchers into protectable intellectual property (IP) that will enable the development of useful products and services by licensing these technologies either to existing companies or new start-ups. At the same time, ILO also facilitates the university's collaboration with industry through industrial sponsored research, joint R&D projects, and independent consultancy services to industry and government.
NUS Overseas Colleges: This programme provides a select group of NUS undergraduates who have demonstrated strong entrepreneurial drive with the opportunity to learn about entrepreneurship first hand in five leading high-tech entrepreneurial hubs in the world. For one full year, the chosen students work full-time as interns in high-tech start-ups in the selected high tech hubs, while taking entrepreneurship-related courses on a part-time basis at partner universities.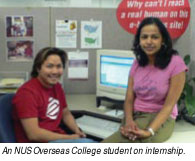 Today, there are five such colleges established in the following leading entrepreneurial hubs in the world: Silicon Valley and Philadelphia, US; Shanghai, China; Stockholm, Sweden; and Bangalore, India. By immersing the students in such entrepreneurial environment, this experiential learning programme seeks to nurture the students into enterprising and resourceful self-starters, and imbue them with a global mindset and social network contacts, with the hope that they will eventually blossom into successful entrepreneurial leaders in the future.
Besides the above, NUS Enterprise also operates two business units: NUS Extension, which leverages the rich knowledge resources of NUS to provide continuing education for working adults in Singapore and the region; and NUS Publishing, the academic publishing arm of NUS that disseminates scholarly and academic works by NUS as well as other reputable scholars in a wide range of disciplines, including a particular focus on Asian studies.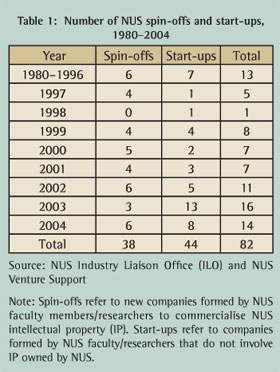 Results arising from the various NUS Enterprise initiatives are beginning to be seen on several fronts. In terms of patents, a measure of innovations with commercial potential generated from research, the total number of NUS patent applications in the period 2000–04 registered a higher average of over 100 applications a year, versus less than 80 in earlier period. The number of patents granted also registered a distinct increase in the period 2000–04 versus earlier years.
With 162 US-granted patents, NUS has by 2004 become the third largest holder of Singapore-based inventions granted US patents, up from 7th ranking in 1995 when the university had only 13 patents.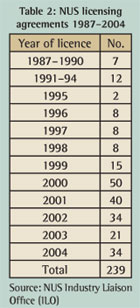 The university has seen an encouraging number of spin-offs, which are companies formed to commercialise NUS's patented invention (as opposed to other faculty start-ups that do not involve NUS-owned IP). The university's average spin-off formation rate of four to five per annum in recent years is creditable (Table 1), even though it is still much lower than those of the top American universities such as Massachusetts Institute of Technology (23 spin-offs in 2002), Stanford (13), and Harvard University (7).
A clear trend of increase in technology commercialisation from 2000 is evident from Table 2. As of the end of FY2004, NUS had made 239 technology licensing agreements. Three-quarters were signed within the five-year period of 2000–04. The majority of NUS licences up to 2003 were signed with commercial companies (44.8%) or NUS start-ups (29.5%), with the remaining quarter being signed with government bodies or public research institutes/centres.
With the various initiatives driven by NUS Enterprise, NUS is gearing up to become an entrepreneurial university that helps cultivate the spirit of enterprise in the next generation.
Driving Dreams, Building Business Ventures
The NUS Venture Support (NVS) was formed in 2002 as a unit under NUS Enterprise to support aspiring NUS entrepreneurs from students, staff, and alumni as well as help them spin-off high-tech companies that commercialise NUS technologies. Services rendered include seed funding, business incubation, and mentoring.
The NUS Venture Support Fund (NVSF) provides seed funding for NUS spin-off and start-up companies. Subject to the scope and nature of the business proposal, each successful application may be granted seed funding of up to S$300,000, with matching funds from the Economic Development Board's Start-up Enterprise Development Scheme (SEEDS) — which translates into a maximum amount of S$600,000. The fund enhances an entrepreneur's credibility as it is a vote of confidence for the start-up.
Besides financial support, NVS's staff offer guidance and consultation ranging from technology commercialisation to business development and fund raising. This enhances the companies' potential to receive significant external funding to grow the company through venture capitalists, private equity, and corporate investors, or via significant organic growth. Funded companies can also benefit from the presence of experienced mentors whom they can approach for advice in their business development activities for specific industries. To-date, NVSF has approved funding for 11 promising NUS start-ups ranging from information technology and life sciences to engineering-related companies.
Potential Venture Successes
Funded start-ups that have achieved promising growth include Cadi Scientifc, which has successfully implemented its wireless patient temperature monitoring system at the Singapore General Hospital, as well as Mikrotools, which developed the world's first sub-100-micron multiprocess machine tool and recently signed an agreement with a leading Japanese corporation to develop next-generation machining tools.
Other funded companies that have displayed great potentials are MOZAT, FriarTuck, and tenCube. MOZAT develops mobile telephony applications and won the Asia-Pacific ICT Award 2004 in the Communications Applications Category. FriarTuck has carved out a niche for its scheduling software in the healthcare industry, helping to streamline the tedious process of scheduling nurses' work schedules. The firm even secured a NASA Mars Rover project in 2003. The latest funded company tenCube was founded by graduates of the NUS Overseas College Program. After their return from Silicon Valley, they started tenCube, which develops applications that enable tracking and recovery of lost phones as well as secure communications for enterprise users. (See "Ingredients of Innovation" in this issue.)
In addition to NVSF, NUS Venture Support also administers the Funds for University Student Entrepreneurs (FUSE) programme that develops entrepreneurial talent among NUS students. Supported by the Ministry of Trade and Industry, 18 student ventures have received funding from the programme. The latest example is Biomers, which fabricates new materials for transparent aesthetic braces based on patented technology developed in the Department of Mechanical Engineering. Another company, MXR Cube founded by NUS postgraduates, designs mixed-reality software that can be used to create exciting children's books and games. It has received S$1 million investment from private investor.
Aspiring entrepreneurs interested to know about venture support programmes and services are welcome to contact NVS. Many have done so and are their way to achieving their entrepreneurial dreams and aspirations.

Click here to download the full issue for USD 6.50