by Kwang Wei TJAN
Cheaper interleavers made of optical fibres ...
An ultrafast laser device producing lines one-five-thousandth the width of a strand of hair ...
Cell physics used to diagnose cancer cells ...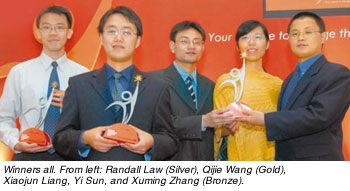 hese three were the winning creations presented at Young Inventors Awards 2004 organised by the Asian Wall Street Journal and Hewlett-Packard (HP). Although the event attracted 87 prestigious Asia-Pacific institutions' tertiary student entries, three Singapore teams captured the judges' votes with their innovative ideas and entrepreneurial plans.
Gold Award Winner:
All-Fibre Optical Interleavers and De-Interleavers
To meet the explosive bandwidth demands of such increasing high-capacity data services as videoconferences and Internet shopping, Nanyang Technological University (NTU) student Qijie Wang has built improved optical interleavers, which are optical routers used to combine or to separate densely spaced optical signals, from nothing more than cheap glass fibre.
Currently completing his doctorate at the School of Electrical and Electronic Engineering under the guidance of Yeng Chai Soh from NTU and Ying Zhang from Singapore Institute of Manufacturing Technology (SIMTech), Wang has proved his invention's ability to increase transmission capacity for existing all-optical communication networks at greater efficiency and lower cost.
Optical-fibre networks function by using light for the transmission of data, with a strand of hair-thin glass fibre carrying a million phone calls simultaneously. Optical interleavers benefit telephone companies by increasing the capacity of their optical networks via increasing or decreasing the space in data channels to fit new channels in between the old ones. However, they are complex instruments that contain several separate components, are expensive, and have weak signal strength leading to noisy phone calls and slow Internet connections.
The optical interleaver technology has many applications in fibreoptics-related fields such as complex structures for optical signal processing, interferometric biosensors, and multiwavelength modulations. It is used in splitting a set of densely spaced channels into several sets of channels with wider channel spacings - or the reverse.
The collaborative NTU and SIMTech research team fabricated the interleaver by serially fusing several pieces of normal fibres, creating an optical interferometer that can also be used as an interferometric biosensor to measure biosamples. SIMTech has filed a US patent application, and a Singapore company has shown interest in commercialising the invention.
For more information contact Qijie Wang at qijie_wang@pmail.ntu.edu.sg
Silver Award Winner:
Ultrafast Laser Nanopatterning Device
Randall Law, now pursuing a PhD programme at the Graduate School for Integrative Sciences and Engineering at the National University of Singapore (NUS) and the Agency for Science, Technology and Research (A*STAR), has helped to realise a laser technique that can fabricate extremely small patterns just 20 nanometres across. This invention, a product of Law's undergraduate thesis in NUS and A*STAR's Data Storage Institute, uses an ultrafast femtosecond (10-15 second) laser with a wavelength of 400nm in its optical near field with a near-field scanning optical microscope (NSOM). It has successfully produced nanoscale features that are 20nm wide - 20 times smaller than the wavelength of the laser used. To date no report exists of such low power - below 0.01mW - coupled into the NSOM optical fibre that can produce such small features.
A photoresist, a layer of light-sensitive film, coats the top surface of the material the laser will cut. Instead of burning the material it touches, the laser cuts lines and forms patterns in the films by changing the chemical structure of the photoresist. Next, the photoresist is washed in chemicals that remove the chemically altered portions so that the lines and patterns no longer protect the target material beneath it.
This technique will be extremely useful for mask production in manufacturing and fabrication of complex nanostructures for research into new devices. Eventually, coupling a single 20mW femtosecond laser source into hundreds of optical fibre probes, using 0.01mW per probe, may be possible, allowing rapid simultaneous writing. Besides modifying the line width, the depth of the fabricated structures can also be controlled accurately with the laser power. This process makes antireflection coatings unnecessary, saving both time and money for the semiconductor industry and consumers.
For more information contact Minghui Hong at HONG_Minghui@dsi.astar.edu.sg
Bronze Award Winner:
Cancer Diagnostic System-on-a-Chip
A simple device for accurate cancer testing at an affordable cost that provides results almost immediately may soon be available in Singapore stores. Three friends, Simon Zhang, Xiaojun Liang, and Yi Sun, all doctoral students at NTU supervised by Ai Qun Liu, developed a chip-based cancer-diagnostic kit that consists of a reusable data-processing box and a disposable medical chip. The biochip, assembled on a piece of 1cm2 polymer, examines cells one at a time to pick out occasional cancerous cells from the many normal ones. In addition, the invention identifies the type of cancer cells by cellular refractive indexing.
Compared with current cancer-testing devices that need weeks to provide results, the biochip works with only a single drop of blood, and the results come back in about an hour. The innovation behind this invention lies in the successful development of a microdevice designed by the team. The device incorporates a refractive-index detector as compared to the huge laboratorybased machines that need prior labelling of cells with fluorescent dyes or antibodies before the machine can differentiate normal from abnormal cells. The team has filed for three US patents, one of which has been granted.
Discussions are presently underway with several international companies to manufacture and market the biochip. The kits will detect four different common forms of cancer, namely breast, cervical, and colon cancer, and leukaemia. The team intends to develop similar biochip to detect other diseases such as malaria.
For more information contact Xiaojun Liang at EXJLiang@ntu.edu.sg

Click here to download the full issue for USD 6.50