by Linda LIM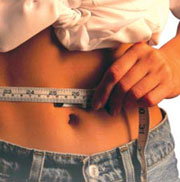 ccording to World Health Organization (WHO) estimates, there are more than 1 billion overweight adults worldwide - a huge number given that the human population is now some 6 billion.
Economic growth, modernisation, and globalisation of food markets underlie this phenomenon. Diets high in complex carbohydrates have given way to those high in fat and sugar. Even if diets have not changed over the years, the trend towards less physically demanding work continues because of automation and the ever-growing use of technology, coupled with a preference for more passive leisure-time pursuits. The increase is faster in developing countries than in the developed world; in Thailand the prevalence of obesity in children has risen from 12.2% to 15.5 % in just two years.
Obesity increases a person's risk of illness and death from coronary-artery disease, hypertension, stroke, kidney and gallbladder disorders, and type 2 (adult) diabetes. WHO estimates that approximately 85% of people with diabetes have type 2, and of these, 90% are obese or overweight. Other conditions associated with obesity include some forms of cancer, osteoarthritis, and sleep apnoea, in which temporary stoppage of breathing during sleep occurs repeatedly.

To read the rest of this article, click here to download the full issue for USD 6.50