by Verne MAREE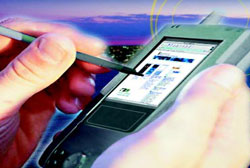 sia-Pacific is surging forward in the emerging market for the wireless local area network (WLAN), a much-needed lifeline for the region's beleaguered equipment suppliers. Defying trends in an otherwise difficult telecommunications market, WLAN hardware shipments achieved phenomenal growth in 2002, with regional revenue increasing by a surprising 79%.
Wireless' freedom from physical constraints and its promise of portable computing anywhere at any time lend it obvious appeal. But what drives the unprecedented boom in Asia-Pacific as compared with other markets? Market analyst Adrian Ho of International Data Corp (IDC) Asia-Pacific cites two main forces: the proliferation of public surfing zones (more popularly known as hotspots), and WLAN equipment bundling for consumers.
The strong growth of WLAN in the region goes hand in hand with increased competition and widespread promotion of the technology, particularly by vendors selling to the consumer market via service providers. The bundling of WLAN services with broadband Internet access, the demand for mobile access to corporate applications, and falling prices will continue to boost sales.