by Lay Leng TAN

edical research once meant good old-fashioned plodding work involving repetitive tasks and analyses, but technology has now caught up, making biomedicine a cutting-edge field. Microtechnology has become an integral part with applications such as gene-expression chips and DNA microarrays enabling rapid breakthroughs in diagnosis and treatment.
Nitish Thakor, a professor at Johns Hopkins School of Medicine, sees microtechnology as a matured field that has spurred developments in microelectrical, mechanical and chemical processes. The mass production of the integrated circuit revolutionalised the way medical personnel can compute and communicate information. "My opinion is that now lots of biomedical researchers are becoming aware of this technology and are applying it to their own research. Like the gene expression chip - biologists are the ones who invented it because they understood they can use microtechnology in molecular biology."
Nitish specialises in neuroengineering in the Biomedical Engineering Department, looking at micromechanisms - microelectrodes and micromotors - to move electroprobes inside the brain. These tiny devices will help scientists in their attempt to understand the complex organ. His laboratory works on biological sensors that detect neurotransmitters and neurochemicals produced by the brain. To assay neurotransmitters, his team has developed a carbon-based microsensor. For sampling minute chemical activities in neurons, carbon is the logical choice in the progression from micro to nano in the next two to three years.
"The first revolution in nanotechnology occurred because of the invention of the carbon buckyball, a hollow spherical molecule of 60 carbon atoms. So carbon became the first element that could be used in atomic arrangement to create structures on a nanoscale," he explains. Subsequently, carbon nanotubules were discovered and have found numerous applications. "Furthermore, carbon fibres have amazing properties and advantages due to their organic and biological potential."
However, Nitish expects the actual application to remain some way off. "If you are a biomedical scientist, you will want to use the maturing microtechnology in your research first. Technology needs to be proven before you can apply it to biological experiments because you are dealing with complex living organisms."
He takes a personal interest in developing applications from technology to benefit the patient. "In the beginning of my career, I was more focused on researching the fundamental concepts behind innovative technology but later realised that we must bring an idea from the bench to the bedside." Ideally, research theory should be conceptualised into a model or a prototype that convinces industry to build or commercialise the product.
After spending ten years on basic research on brain rhythm, mathematical modelling and experiments, the bioengineer and his team began to bridge the gap about five years ago. They tested their work on animals and then conducted clinical trials. Relying on the findings, they built a prototype of the brain-monitoring instrument, which is undergoing clinical testing at the Johns Hopkins Hospital. The next step will be to get approval from the US Food and Drug Administration.
The inventors have spun off a company with a government grant to fine-tune the instrument and commercialise it for industry use. The target over the next five years is to make the instrument available in operating theatres and intensive-care units for patient monitoring.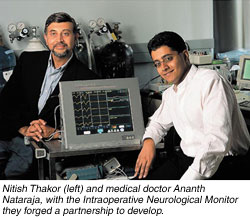 "Nano-ing" Down
Nitish's group started working on a chemical probe at the same time they were developing the brain monitor. They came up with the carbon fibre-based sensor about six years ago, then developed a very large scale integration (VLSI) chip that connected to the sensor. They graduated from simple carbon fibres to microfabricated microsensor designs and finally to the nano-sensor design. Even though measuring brain chemicals using a different technology is fairly basic research, he believes his work in neural nanotechnology is unique.
With the help of a materials scientist, Nitish's students take porous alumina, which has natural nanopores, as a template. Using electrochemistry, they fill up the pores, remove the template and obtain nanofibres. This serves as a biodegradable scaffold for growing cells or nerves in the body. The next step is to create a sensor that measures neurochemicals, and he hopes to achieve this goal by the middle of this year.
Nitish believes strongly in partnership. Just as companies conceptualise ideas in one place, design products in another, and finally manufacture them in low labour-cost environments, he sees the same strategy adopted for research. Why reinvent the wheel and duplicate the effort if certain work has already been successfully accomplished?
His former postgraduate student Joseph Paul, now an assistant professor at the National University of Singapore's Bioengineering Division and the Department of Electrical Engineering, is setting up joint projects with electrical engineering and microelectronics researchers in Singapore. The American professor is also exploring a collaboration with NUS that will tap the university's new electron paramagnetic resonance imaging technique. The new instrumentation paves the way for studying free radicals, which are linked to brain health.
Nitish continuously examines the potential of technology. For him, the brain represents the last frontier, like space, where so many details and aspects are there to study. He intends to pursue his quest with the technologies emerging along the path of discovery.
For more information contact Nitish Thakor at nthakor@bme.jhu.edu