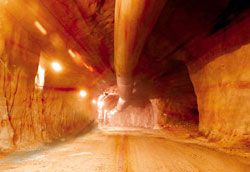 efence Science & Technology Agency (DSTA) created new safety standards with the development of Singapore's first Underground Ammunition Facility (UAF) - standards that have received international endorsement from the North Atlantic Treaty Organisation (NATO) Underground Storage Working Group.
Application of the DSTA criteria, coupled with innovative safety design, has resulted in a 90% reduction in the land area needing sterilisation for development as safety buffers surrounding the ammunition facility - in comparison with a similar conventional above-ground storage facility. By constructing the facility underground, the builders saved 300 hectares - a land area equivalent to 400 soccer fields, or half the size of Singapore's Pasir Ris New Town.
Safety constitutes the most important factor in the design of the UAF. In the unlikely event of an accidental explosion, the protective design of the UAF will minimise the hazard beyond its boundaries. Many innovations on explosive storage safety, lightning protection and fire protection enhance the protection of personnel working at the UAF. The Bukit Timah granite into which the UAF is built has six times the strength of normal concrete.
By building flexibility into the layout, the facility can be modified to meet future needs and changes. In addition, underground installations do not experience the weathering effects of rain or sun. The life-cycle costs of the installations will be lower because of reduced operating and maintenance costs, and the projected energy cost should be less than 50% of similar above-ground facilities.
DSTA performed extensive technical studies and tests in the area of storage of explosives underground, in collaboration with overseas and local partners. In Singapore, it carried out research studies with the National University of Singapore's Centre for Protective Technology, Nanyang Technological University's Protective Technology Research Centre, and the Institute of High Performance Computing. With NUS, the research work focused mainly on the area of underground ammunition-storage safety, which includes numerical modelling of ground-shock propagation and response of high-rise reinforced-concrete buildings.
Because of its work on the UAF, DSTA now represents Singapore as a member of the NATO Underground Storage Working Group and the Klotz Group, entities comprising international experts responsible for undertaking technical studies and testing explosives- storage safety.
For more information contact Evelyn Ong at eveong@dsta.gov.sg.