by Lea Wee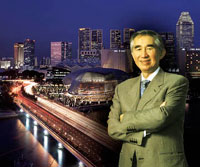 hanks to sound government polices and good city planning, Singapore ranks as one of the best-designed cities in the world, notes renowned architect-planner Dr Liu Thai Ker. "One of the most important decisions the Singapore government made on the day we became independent was to pay attention to our built environment even as we focused on economic development."
As a result, Singapore is clean, green and pollution-free today. "We have an excellent public transportation system, which explains why serious road congestion is rare. Our planners organised the city in a way that is convenient to citizens. Even our visual environment gives pleasure, thanks partly to the great emphasis placed on tree planting and landscaping," he says.
The Director of RSP Architects Planners & Engineers Pte Ltd and the planning advisor to Shandong Province and various major cities in China, Liu also serves as the Chair of the National Arts Council and a member of several governmental and academic bodies in Singapore.
He made his greatest contribution to the building scene in Singapore as the Chief Executive Officer of the Housing and Development Board (HDB) from 1969 to 1989, during which he saw the completion of over half a million dwelling units. Moreover, as the CEO of the Urban Redevelopment Authority from 1989 to 1992, he spearheaded a major revision of the Singapore Concept Plan, the country's blueprint for future architectural development.