by Neo Chai Seng, Ho Siew Chong and Poh Wei Leong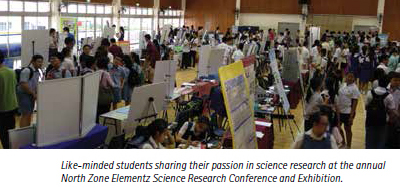 nderson Junior College (AJC) attracts students passionate in Science and Mathematics with its vision of "Passionate Learners, Adventurous Thinkers, Caring Leaders". As the North Zone (NZ) Centre of Excellence (CoE) for Science, we take the lead in nurturing inquiring minds among Science students in NZ schools. We strongly believe that developing scientific skills is not an end, but rather a means to cultivate students with the heart to advance science for the betterment of society.
Our Flagship Elementz Conference and Exhibition
As the NZ CoE for Science, AJC has since 2001 proudly hosted the annual Elementz Science Research Conference and Exhibition where upper secondary and JC students from North Zone and beyond are invited to showcase their research projects and intellectually spar with like-minded peers. In recent years, this event has even attracted international participation, including bright minds from the No. 14 High School in Yunnan, China and Nguyen Tat Thanh High School in Hanoi, Vietnam. In addition, judges from renowned institutes of higher education such as National University of Singapore (NUS), Nanyang Technological University (NTU), National Institute of Eduction (NIE), as well as Nanyang, Ngee Ann, Singapore, and Temasek Polytechnics are invited to share their expertise, provide feedback to the participants and further challenge their scientific thinking.
Every year, a pre-conference Science Research Skills workshop is organized to equip all participants with the necessary research skills which will prepare them well for the conference. We also reach out to lower secondary students by organizing the annual AJC Science Challenge where they put their scientific knowledge to the test through fun-filled activities. To deepen awareness among the exhibition participants on the real-life problems encountered by scientists and the application of scientific concepts, we regularly invite our partners to conduct workshops and set up exhibition booths to share their cause. To date, we have worked closely with organizations such as the Public Utilities Board (PUB), Energy Market Authority (EMA), Water Initiative for Securing Health (WISH), Sharksavers Singapore, Waterways Watch Society, and Animal Concerns, Research & Education Society (ACRES).
A Springboard for Aspiring Scientists
Anderson Science Programme in Research & Enrichment (ASPiRE) is our college signature Science program. All AJC Science students experience ASPiRE as Science Adventurers, and those who are talented and passionate in science research can stretch themselves further as Science Pioneers. A highlight for our Science Adventurers is the innovative Science Challenge during their JC1 year. During this challenge, professors from Singapore University of Technology and Design (SUTD) teach students about how design thinking can be used to solve real-world problems with a humanistic focus. Thereafter students work in teams to apply the design thinking process to propose innovative solutions and build a prototype to address the task posed by the Science Challenge. Finally, they showcase their design and sell their ideas to convince their peers.
For the Science Pioneers, they are presented with a wide array of attachment opportunities that hone their science research skills. Through the mentorship program provided by Agency for Science, Technology and Research (A*STAR)'s Research Institutes, Temasek Life Sciences Laboratory (TLL), NUS, NTU, NIE, SUTD, Ngee Ann Polytechnic, and GlaxoSmithKline (GSK) Singapore, students are immersed in authentic research environments and are given invaluable opportunities to learn from practising scientists. Equipped with high-end research lab facilities housed in our Elementz Lab and Nanoscience Lab, our team of dedicated science teacher mentors also guide Science Pioneers in conducting school-based science research projects.
With Great Power Comes Great Responsibility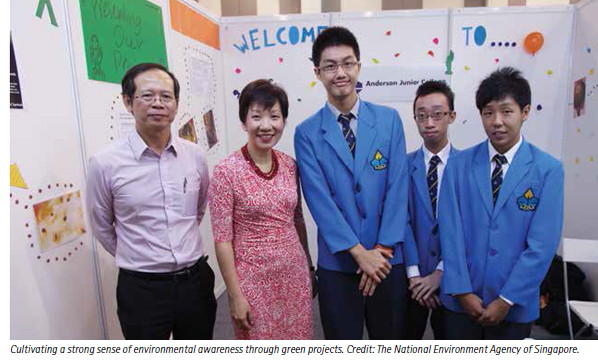 A distinctive characteristic of ASPiRE is the focus on character-building through Science as we firmly believe in developing Science leaders who care and apply their knowledge for the benefit of humanity. With this in mind, we work in collaboration with our external partners such as Public Utilities Board (PUB) and National Environment Agency (NEA) for students to conduct research in environmental projects as well as to contribute in community outreach programs.
Working with GSK under the NEA's Corporate and School Partnership (CASP) program, our students have self-initiated various meaningful green projects and have been regular participants of the Clean & Green Singapore competition. In 2011, our student teams won third prize and in 2012, received a Commendation Award.
The college's environmental efforts are not limited to participation in competitions. Much has also been done to spread the green message among students and the community. One key project is the Active, Beautiful Clean (ABC) Waters Learning Trail for Kallang River @ Bishan-Ang Mo Kio Park, a collaboration with PUB after we adopted the park in 2012. Based on the inter-disciplinary application of Physics, Chemistry, Biology and Geography concepts, our teachers guided our students to develop a student resource booklet and a trainer's guide. Last year, the learning trail was officially launched at the Singapore World Water Day 2013, and our students volunteered to serve as learning trail facilitators for secondary and JC school students from the NZ schools.
A Tale of Three Science Pioneers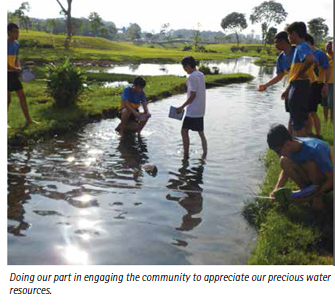 Carrie-Ann, Marshall and Nicholas were three AJC students whose achievements were recognized beyond their wildest imagination — at the global stage. Armed with a common passion in science research, they joined Project Eureka, the college's Science Research Club. Spending weeks persevering in the college Elementz Lab and refining their ideas with their teacher mentor, they finally got what they were looking for — a method of using bentonite clay to remove and recover pollutants from used water without producing any waste products. The clay would be able to absorb up to 100% of the non-ionic surfactants (soap-like additives commonly used in household detergents and cosmetic products), and then be flushed clean with alcohol, allowing the removed compounds to be recycled.
The college rallied behind the student team, providing them with opportunities to present their ideas in the North Zone Elementz Science Research Conference and Exhibition and subsequently at the Singapore Junior Water Prize. Their ideas won the local judges over and soon, they were on their way to Stockholm, Sweden in 2012 for the international competition. Their idea won the jury over yet again for its innovation and impact for the greater good of world environment. Finally, they emerged as Singapore's first international champion at the Stockholm Junior Water Prize — an award coveted nearly as much as a Nobel Prize or Olympic medal in the area of youth achievements in water and environmental science.
Highly impressed with the innovative idea, PUB awarded a significant research fund of S$42,000 in 2013 to support the collaboration between the college and Ngee Ann Polytechnic's Environmental and Water Technology Centre of Innovation to extend the research. The eventual goal is to create a system that can be installed at industrial laundromats to help Singapore recycle waste water.
Future Directions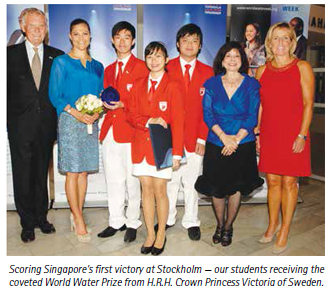 The sky is the limit for us at AJC and we aim to take our NZ CoE for Science and ASPiRE to even greater heights. As we open new doors and forge new partnerships, our students will continue to excel. A new field we are exploring is 3D printing with NTU Mechanical and Aerospace Engineering, an area which is touted by many as the revolutionary technology that is changing the face of innovation. We are also working with Defence Science and Technology Agency (DSTA) and Singapore Technologies (ST) Engineering to offer scholarships and exciting attachment opportunities for our pool of talented budding scientists.
Building on our existing overseas program with our twinning school in Vietnam, we plan to enhance our International Science Study by embarking on collaborative research work with their students which will widen our students' perspective. In the pipeline are also a wide variety of programs including a series of Masterclass conducted by NUS professors for all students, and learning journeys to research institutes involved in cutting-edge work. Through these, we are confident that our students will ultimately become scientific pioneers, well-poised to innovate further by standing on the shoulders of giants in the greater scientific community and use their talents to bring good to the world around us.
Ho Siew Chong is the Head of Department of Science (Chemistry & Biology), Neo Chai Seng is the Head of Department of Science (Physics & Science Research), and Poh Wei Leong is the Subject Head for Science Research in Anderson Junior College, Singapore. For more information about this article, please contact Poh Wei Leong at poh_wei_leong@moe.edu.sg

Click here to download the full issue for USD 6.50