Background
The 7th Asian Science Camp was held from 25 to 30 August 2013, at Epochal Tsukuba-Tsukuba International Congress Center, Tsukuba, Japan. It aims to promote international friendship and cooperation among science-talented youths in Asia and inspire us through scientific discussion. About 200 students from high schools (11th and 12th grade) and universities (1st and 2nd year) took part this year.
The main program of the camp included lectures by 7 eminent scientists: Prof Leo Esaki (Nobel Laureate in Physics 1973), Prof Makoto Kobayashi (Nobel Laureate in Physics 2008), Prof Yuan-Tseh Lee (Nobel Laureate in Chemistry 1986), Prof Ei-ichi Negishi (Nobel Laureate in Chemistry 2010), Prof Ada Yonath (Nobel Laureate in Chemistry 2009), Prof Motoko Kotani, Director, Advanced Institute for Materials Research, Tohoku University, and Prof Hitoshi Murayama, Director, Kavli Institute for the Physics and Mathematics of the Universe, University of Tokyo.
Lectures and Camps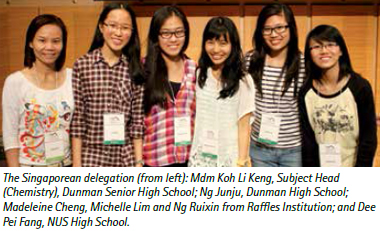 Lectures were conducted by eminent scientists, with topics ranging from materials science to catalysts, to even talks entitled "My Life as a Chemist" and "The Fruits of Curiosity". The wide variety of topics not only gave us insights into the content covered, but also taught us values and experiences that will surely come to play in the future.
Prof Hitoshi Murayama, who lectured on the field of cosmology, started off with the very basics, so even beginners like me could grasp the ideas shared. I was intrigued by this field of science that was unfamiliar to me. At the same time, Prof Murayama posed thought-provoking questions that still baffle cosmology researchers, piquing our curiosity in the subject.
In order to give participants more opportunities to interact closely with the lecturers in small-group settings, 5 different camps were conducted. Each camp session was unique in its own way, with Q&A sessions or hands-on experience to understand the scientific content covered.
Poster Presentation
For the Poster Presentation section, the 200 over participants were divided into groups of 4 or 5 based on their scientific interests. They were then given the task of completing a poster in 9 hours. The participants in my group were all from different countries — South Korea, Pakistan, India, Taiwan and Singapore. Inspired by Prof Ada Yonath, my team put up a poster on the topic of "RNA: Ribosomes, Nanomedicine and Antibiotics". In our poster, we highlighted the importance of ribosomes in the human body and discussed how diseases may be combated with the use of ribosome-targeted antibiotics. Although cultural barriers and occasional language barriers were challenging, my team overcame them and managed to clinch a "Best Player Award" (an award to the top 3 most popular posters as voted by fellow participants and educators). This was truly an affirmation of our team effort.
Field Trips — Scientific Research in Japan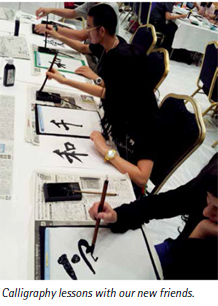 Tsukuba Science City, located about 50km from Tokyo, has hundreds of public and private research and educational institutions. As part of the program, we were given a tour to different institutions in either Tsukuba Science City or Tokyo on Day 4 of the camp. Participants had the opportunity to visit one of four institutions to learn about the latest research in Japan: the High Energy Accelerator Research Organization (KEK), Tsukuba Space Centre (JAXA), National Museum of Emerging Science and Innovation (Miraikan) or Science Square Tsukuba.
The visits to these different institutes enabled us to learn about the latest technologies being researched and implemented in Japan. Visiting the Geological Museum in the Science Square taught visitors about the natural geological landscape in Japan and the problems she faces as a country along the volcanic "Ring of Fire", an area where a large number of earthquakes and volcanic eruptions occur in the basin of the Pacific Ocean.
Cultural Activities
Short cultural activities were also incorporated into our camp schedule to immerse us in the Japanese culture and allow us to have fun with our new friends. Some of the activities included Origami, Japanese Calligraphy and Japanese Traditional Dance. We also visited Oedo Onsen Monogatari, a traditional hot spring, also known as "onsen" in Japanese, where we were treated to a sumptuous meal and given free time to play games and soaked in the hot baths. Sensoji, a Buddhist temple built in the 7th century in Asakusa, Tokyo, was another stopover where we had some free time to shop in the traditional shopping street, Nakamise.
Overall, our Japanese hosts were warm and hospitable, even if language barriers stood in the way. They tried their best to make the participants feel comfortable. In addition, the level of organization of the camp was one that we all appreciated —lectures started and ended punctually and the timetable ran like clockwork because of an innate consciousness of being punctual in the Japanese culture.
It was revealed at the closing ceremony that the Institute of Advanced Studies at NTU, Singapore, would have the honor of hosting the Asian Science Camp 2014. It will be an excellent opportunity for us to showcase Singapore's advancements in science research and our uniquely Singaporean culture.
---
Acknowledgments: The author would like to thank Michelle Lim, Raffles Institution, and Dee Pei Fang, NUS High School, for their input.

Madeleine Cheng is a Year 5 student at Raffles Institution (Junior College). She was one of the participants selected to attend the Asian Science Camp 2013 through the Overseas Student Attachment Programme (OSAP) organized by the Ministry of Education (MOE) Singapore.

Click here to download the full issue for USD 6.50