by Nitish Thakor

ingapore is the largest manufacturer of jack-up rigs, commanding 70% of the world market. To aintain its leadership position in the industry, Singapore is pumping significant funding into R&D to address complex challenges.
Keppel Corporation "broke new ground" when it went into partnership with the National University of Singapore (NUS) to launch the Keppel-NUS Corporate Laboratory on 25 November 2013 at the NUS Faculty of Engineering. The initiative, which comes under the National Research Foundation's (NRF) Corporate Lab @ University scheme, was the first research lab to be set up by a local company in partnership with a local university — to the tune of S$75 million.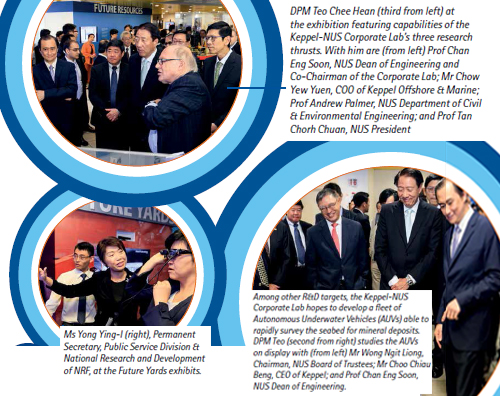 The new Corporate Lab is tasked with looking into new technologies that can help Singapore's offshore industry maintain its global edge and to continue to create economic value to the country. Speaking at the launch, Deputy Prime Minister Teo Chee Hean, who is also the Chairman of NRF, noted that the marine and offshore industry contributes S$13 billion or 1.6% to Singapore's GDP, hiring some 20,000 Singaporeans and permanent residents, mainly in skilled jobs. Besides Keppel and SembCorp, there are other companies such as offshore logistics provider Toll, and Halliburton, whose regional flagship Completion Tools facility opened in Singapore earlier in 2013.
"The presence of many such companies helps to create a cluster of related activities in the marine and offshore sector which anchors higher value-added activities in Singapore, and creates good jobs for Singaporeans," said DPM Teo.
Keppel Corporation is a good example of how investing in R&D and innovation has paid off. For more than a decade, it has built close to half of the world's jack-up rigs. Keppel's rigs are able to operate in water 3,000m deep, drill 10,000m below the seabed, and withstand pressure of about 15,000 pounds per square inch. The strong research capabilities of NUS, coupled with the industry know-how of Keppel, will create a synergy that will spur the creation of valuable, new, user-inspired knowledge and innovative solutions.
At the launch, NUS President Prof Tan Chorh Chuan revealed that the Corporate Lab will sit as a hub in a wider off-shore engineering and marine R&D community at NUS Engineering. He believes that NUS is well-positioned to add value to the partnership, with expertise gleaned from the NUS Centre for Offshore Research & Engineering, Tropical Marine Science Institute and Advanced Robotics Centre.
Dean of NUS Faculty of Engineering Prof Chan Eng Soon, who is also the Co-Chairman of the Keppel-NUS Corporate Lab, said that the Lab will provide a unique platform to build synergy between industry and academia.
"It will certainly create a culture for thinking out of the box in addressing real world problems. As it is imperative that we leapfrog ahead in innovation and technology towards expanding Singapore's investment in the offshore industry, we need to nurture engineer leaders and experts capable of going beyond frontiers in coming out with holistic solutions for complex challenges," Prof Chan commented.
The Keppel-NUS Corporate Lab will focus on three research thrusts — Future Systems, Future Yards and Future Resources.
Future Systems
Deep and ultra-deepwaters as well as the Arctic environments present a unique set of challenges rarely encountered in shallow water developments. In developing Deepwater Technology, NUS expertise in both numerical and physical modeling will provide novel insights into the complexities of harsh environments and extreme weather conditions. Various classes of wave-structure interaction problems will be studied using novel computational methods.
In developing Arctic Technology, ice-interaction with non-conventional Arctic structures will be studied as this is a critical factor in the design of Arctic drilling systems.
Future Yards
Yards of the future will be safer, more productive and more technology-intensive. Novel automation with sensory devices is expected to reduce manual labour in three main yard activities – welding, painting and operations in confined spaces.
Chief Executive of Keppel Mr Choo Chiau Beng highlighted that shipyards here can no longer evolve as they did in the last 45 years. In designing and developing a shipyard of the future, he said that there would need to be "a step-change to build with much less labor" using robotics, sensors, automation and other technologies.
Future Resources
Singapore hopes to explore the seabed soon and is sponsoring applications by Ocean Mineral Singapore (OMS), a subsidiary of Keppel, to the United Nations International Seabed Authority. NUS will work with Keppel to develop economically-feasible and environmentally-sensitive solutions to explore and collect polymetallic nodules which are rich in precious minerals on the deep ocean floor. Research in the pipeline includes developing a fleet of "collaborative" autonomous underwater vehicles that are smaller, and able to communicate with each other to work as a team when surveying the bottom of the sea.
R&D in areas under these three research thrusts is expected to commence in January 2014. The initiative will involve 44 Principal Investigators, Co-Principal Investigators and external collaborators. It will create 54 new positions for research fellows and engineers, as well as train some 30 PhD and Masters students in five years.
Keppel-NUS Partnership Goes Back A Long Way
Keppel and NUS Engineering have been working closely for more than a decade in the field of offshore engineering. The establishment of the Keppel Chair Professorship in Ocean, Offshore and Marine Technology in 2002 led to the formation of the Centre for Offshore Research & Engineering (CORE) in 2004, which in turn spurred a number of related research projects.
In 2012, NUS Engineering collaborated with Keppel Offshore and Marine, Keppel Offshore & Marine Technology Centre and FloaTEC to work with Brazilian universities, research industries as well as offshore and marine industries to meet challenges in deepwater technology. The partnership also supports Engineering undergraduate programs and postgraduate research.
Brazil is one of the world's major oil producers. Oil exploration and production are expected to grow even stronger in the coming years, requiring heavy investments in state-of-the-art technologies, presenting enormous engineering challenges and opportunities.

Click here to download the full issue for USD 6.50