by Hee Jia Yun, Fan Jing Jing, Looi Qin En, Timothy Yap Shi-Jie, Wen Qianlin
Interaction and Transformation
"Who, with such a thought, would not spring from bed, eager to resume discovering the world and rejoicing to be part of it?" — Richard Dawkins, ethologist
For the participants and facilitators, there were many such thoughts during the International Science Youth Forum @ Singapore 2011. More than just the activities it encompassed, the ISYF 2011 was an amazing journey of scientific inquiry and self discovery.
The International Science Youth Forum was jointly organised by Hwa Chong Institution and the Institute of Advanced Studies (Nanyang Technological University). It is sponsored by Temasek Foundation and Agency for Science, Technology and Research (A*STAR) and supported by the Ministry of Education. In its third year running, the forum brings together elite science students and educators from across Asia to network with their counterparts and be inspired to further their interest in science and scientific research. This year, there were a total of 89 students from 10 countries participating in the International Science Youth Forum @ Singapore 2011. Over 6 days, they took part in various science-related activities, and shared their cultures. On top of that, they had the privilege of holding numerous discussions with Nobel Laureates Professor Jerome Friedman and Professor Robert Richardson as well as Fields Medalist Professor Vladimir Voevodsky.
Forming Bonds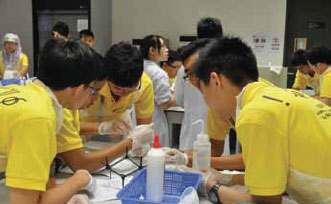 "The meeting of two personalities is like the contact of two chemical substances: if there is any reaction, both are transformed." — Carl Jung, psychologist
For many of the facilitators and participants, the ISYF 2011 provided a platform for them to meet and interact, thereby forging close bonds with one another. They shared many emotions together as they traversed Singapore in a miniature 'Amazing Race', watched cultural showcases, shared rooms, and had discussions with the visiting professors. According to Jon Tiosin of Philippines Science High School, "I realized that people, especially young minds, from different races, backgrounds, religious beliefs, and disparate intentions can form bonds and lay important foundations for the future in a short period of one week."
In addition to the personal friendships formed, by learning more about the lives of those from other countries, participants were able to broaden their perspectives. While they became more aware of some better practices in other countries, they learnt to treasure their own as well. Upon interacting with the top science talents from other countries, some participants were also highly inspired by their counterparts' tenacity and how they strived for their best while remaining humble about their experiences.
Accelerating Development
"We cannot hope to build a better world without improving the individual." — Marie Curie, physicist and chemist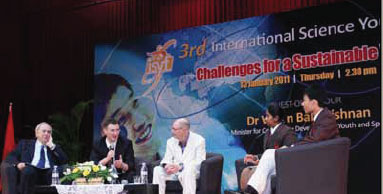 From the interactions with the eminent scientists, participants were able to gain a wealth of insights that contributed to their development as better individuals.
For example, participants were greatly inspired by the scientists' attitudes towards science. Professor Vladimir Voevodsky commented on how he was practicing mental discipline by learning to think the right things at the right times. From this, participants realized many feats in mathematics and science are attainable through sheer willpower, and were hence willing to face their difficulties with renewed hope. Professor Robert Richardson also inspired participants by saying that the only path to true success in something was to have a strong interest and passion in it. From the interactions, Kenneth Tan of Hwa Chong Institution said he had 'gained numerous insights and [the interactions have] definitely spurred me on and fuelled my passion for scientific research'.Participants also learned much about the application of science. Professor Friedman pointed out how the basic principle of all science lies not in science itself, but in ethics. As such, participants realized there is a great responsibility placed on scientists to remain morally upright, in order for their decisions and research to contribute towards the attainment of a sustainable world.
On a more personal level, participants were also inspired by various character traits of the professors. On the theme of ISYF 2011 – Challenges for a Sustainable World, the professors provided huge insight into the socio-political, economic and moral aspects of sustainability. This proved to the participants that people can be well versed in not just the Sciences, but also the Arts. This has inspired them to explore their abilities beyond what their fields of study restrict them to. In addition, participants were spurred to emulate the professors in seeking out their personal passions and convictions, and to strike a balance in whatever they did.
By-products of Synthesis
"I think work is a privilege… it keeps you alive, spiritually." — Denton Cooley, surgeon
Finally, The shared experience of ISYF 2011 was aptly summarized by Katherine Nay Yaung, co-chairperson of the student organizing committee. In her words, "ISYF will always remain as a memory in my heart, and is possibly the best experience I have had during the whole 17 years that I have been on this earth." for the student facilitators who helped organize the Forum, the experience was an inspiring and life-changing one. Apart from learning together with the participants, the student facilitators also honed their skills in event organization, teamwork and leadership. It was indeed a valuable experiential learning exercise for all. Said Sim Meng Ying, co-chairperson of the ISYF 2011 student organizing committee, "One of my greatest takeaways from ISYF is the need to plan everything down to the smallest detail beforehand… This is essential in ensuring that the activity runs smoothly".
Acknowledgements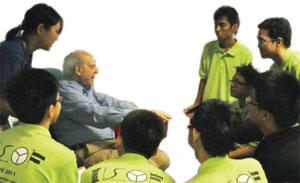 The enriching learning journey of ISYF 2011 would not have been possible if not for the support of the various institutions we worked with, and all the hard work put in by the teachers and students involved. Hence, from the bottom of our hearts, we would like to extend our heartfelt gratitude to these people.
All in all, the Forum was a showcase – of not just the inspiring views and qualities of the visiting professors, but also the hard work and enthusiasm showed by participants, educators and facilitators alike. As such, the interactions between all of them provided a learning experience for both the participants and student facilitators, through which young minds were inspired, genuine friendships were formed and the development of science was accelerated a little bit more.

Click here to download the full issue for USD 6.50