by Tan Lay Leng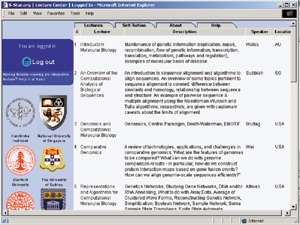 everal universities have come together to form a consortium offering global online bioinformatics courses that address the current interest in and need for talent development in this field.
Bioinformatics, the integration of information and the life sciences, is a hot topic today. The field has catapulted to prominence due in part to the completion of the Human Genome Project. The post-genome era sees such an unceasing deluge of information from genome-related projects worldwide that a bottleneck in computational analysis and interpretation of the data has resulted.
Bioinformatics brings order to this chaos by making sense of incomprehensible amounts of information and by helping to accelerate the process of translating knowledge to application. Academics, industrialists, and investors all over the world are keen to leverage the possibilities this strongly emerging field promises; however, a new generation of students and scientists will need training to contribute to this relatively new arena.
In anticipation of the demand, a group of universities have gathered to share resources to establish global course modules in bioinformatics.
The S* Life Science Informatics Alliance (www.s-star.org), led by the National University of Singapore's Bioinformatics Centre as the Secretariat, includes Stanford University, the Karolinska Institute and Uppsala University in Sweden, the University of Sydney, and the South African National Bioinformatics Institute at the University of Western Cape. The University of California at San Diego, having applied for membership, will soon give its first online lecture.
In 2001 the S* Alliance launched an international introductory course in bioinformatics, freely available to all and covering topics ranging from genomics to proteomics and protein structure. More than 250 applicants have signed up for this popular course, in addition to the over 100 participants who completed the programme.
Associate Professor Anthony Weiss, Director and Chair of the Department of Molecular Biotechnology, University of Sydney, and the founding chairman of S* Alliance, sees bioinformatics as a major revolution. "It's the consequence of bringing together aspects of biology and life sciences from one direction and information technology (IT) from another direction. The combination allows you to use IT to look at biological systems to analyse, examine, and explore information as we've never done before. It also allows us to predict far more efficiently the behaviour of biological systems so we can learn how life behaves in a much more systematic way."
Professor Siv Andersson, head of the Department of Molecular Evolution and founding chair of the Linnaeus Center for Bioinformatics at Uppsala University, agrees: "One of the reasons bioinformatics has become such a buzzword is all the data produced by biologists. There is no way we can cope with the information manually as we used to do. We need to develop software, tools, and analysis systems that help us to manage it in an automatic fashion."
Weiss, who is also a visiting professor at the Department of Biological Sciences, NUS, cites two local examples. "At the Institute of Molecular and Cell Biology, a puffer fish genome project team has begun to look at its role in biomedical research, which involves data collection and interpretation. The development of proteomics here on campus accumulates many thousands of new pieces of data on a regular basis."
So what does all this mean to the layperson? The most obvious applications lie in medicine and genetic disease, Andersson notes. The human genome provides a reference point where researchers can look for clues on how features in the genome relate to disease. However, she stresses, genomics only provided the starting point since experiments that target different applied areas have yet to be conducted. For many cases where it would be like looking for a needle in a haystack, bioinformatics helps zoom in on the relevant questions.
Weiss attributes bioinformatics' fundamental importance to its connection with molecular and cellular biology, biological sciences, and biochemistry. "The bridging means that you can answer basic questions and teach people technique. When applied to complex medical data, it allows us to predict choices of mechanisms for further bench research to improve the medical outcome, to diagnose, and, we hope, to treat."
He continues: "Bioinformatics has already allowed the identification of many target molecules for human disease; entire companies are built around such targets for disease treatment. There are diagnostics systems available using bioinformatics tools, for looking at people and populations to find the best therapeutic methods. For example, it's possible to analyse how cancer cells are responding and use bioinformatics knowledge to differentiate among patients' responses to treatment.
"We're only learning now how incredibly useful the information can be. That's why people and companies are interested in S* and why we invest time in teaching as well as research."
The NUS Centre for Instructional Technology helps to provide online additions that allow students to enrol in order to attend publicly available lectures and to take formal class instruction spanning several months. Its Integrated Virtual Learning Environment (IVLE) offers an almost seamless transition back and forth between local and international contacts. The latest IVLE software (version 7) can even communicate with students via the short message service (SMS) on their mobile phones.
Participants access course materials via streaming video from the S* website. Lecture notes, discussion forums and multiple-choice-question assessments are hosted on the IVLE and are available to the participants following a lecture schedule.
During the discussion forum for a specific lecture, the lecturer occasionally gives guidance and answers to exceptional issues raised by students. The interaction allows the students to learn from each other and to participate in group and self-learning. Upon completion of the course, attendees are awarded certificates endorsed by each S* institution.
Feedback from past participants has shown that the course is informative, and excellent for distance learning.
However, to ensure a comprehensive yet in-depth understanding of bioinformatics, a structured curriculum is essential. The University of Sydney offers undergraduate- and postgraduate-level courses, as well as life-sciences topics such as molecular technology.
NUS, on its part, is partnering Singapore's BioInformatics Institute to offer a graduate programme in the July 2002 semester. This joint two-year programme leading to an MSc in Bioinformatics has an initial intake of 30 students. Adopting an interdisciplinary multifaculty approach, the programme integrates life-sciences subjects with computational, mathematical, and physical sciences (https://www.bii-sg.org/education/graduate/pgteaching.html).
For more information contact Assoc Prof Anthony Weiss at a.weiss@biotech.usyd.edu.au.