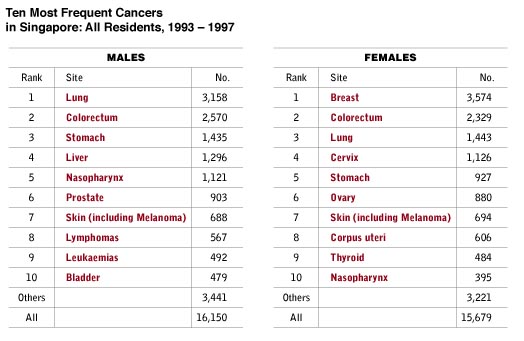 he incidence of cancer has been rising among Singapore residents. Data from the Singapore Cancer Registry shows that only 2,500 cases were reported in the early 1970s whereas the number of new cases has climbed to about 6,400 annually in recent years.
The trend is especially noticeable in females among whom the overall annual cancer numbers have risen sharply from 154.5 to 198.1 per 100,000.
Table 1 lists the ten most common cancers in Singapore during the period 1993 - 1997.
Associate Professor Chia Kee Seng, a medical epidemiologist from the Department of Community, Occupational and Family Medicine, National University of Singapore, gave two possible reasons for the rapid rise: an increase in awareness and hence diagnosis of cancer cases, and lifestyle changes leading to a greater exposure to carcinogenic substances. He and his colleagues have compiled data on the disease in a report entitled Cancer Incidence in Singapore: 1993 to 1997.
For more information contact Assoc Prof Chia Kee Seng at cofcks@nus.edu.sg.