by Lea Wee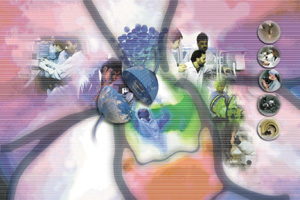 ithin the space of a few years, biomedical research in Singapore has become a veritable hotbed of activity. Government-backed initiatives helping to breathe life into the biomedical sciences include the Genome Institute of Singapore (GIS), the Institute of Bioengineering, and the Bioinformatics Institute.
To further encourage the growth of a vibrant biomedical community, biomedical research activities have their physical focus at a science park called The Biopolis. Increased action in the biomedical sector has energised cancer research here, cranking up Singapore's potential as a cancer-treatment hub by a few notches.
Groups that have sprung up in recent years include the National Cancer Centre, a one-stop national and regional cancer centre for research, education, and patient care; and the Cancer Therapeutics Research Group, which involves collaboration between cities such as Sydney and Hong Kong. Johns Hopkins Singapore, a joint venture of the prestigious Johns Hopkins University in the United States, the Singapore government, and various Singapore partners, marks another collaborative effort and now serves as the Johns Hopkins University's base of medical operations in Southeast Asia.
No less encouraging is the relocation of a number of internationally celebrated cancer experts to the island republic. Their moves provide a significant injection of talent into and a vote of confidence in Singapore's campaign to build up a critical mass of researchers.
One well-reported example is cancer researcher Professor Yoshiaki Ito. The discoverer of genes responsible for the development of gastric cancer was talent-scouted by the Institute of Molecular and Cell Biology to continue his work in stomach cancer and leukaemia in the island republic. He also managed to persuade nine of his research team members to join him in his move. Another renowned cancer researcher who has set up base here as Executive Director of the GIS is Dr Edison Liu, former director of the National Cancer Institute's Division of Clinical Sciences in the US.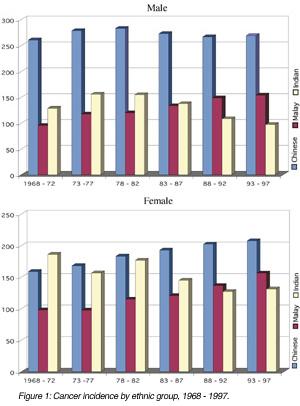 Singapore as a multiracial society holds a trump card for these researchers - the opportunity to study genetic variations among different ethnic groups. Scientists increasingly realise that trends and patterns in cancer, as well as tumour characteristics themselves, may vary from one ethnic group to another. For instance, breast cancer strikes Asian women at about age 40 whereas in the West its victims are most often in their 60s. Some cancers such as nasopharyngeal carcinoma (NPC) and hepatitis B-linked liver cancer seem to be more common among Asians. On the other hand, cancers such as prostate cancer and skin cancer which are more prevalent in the West.
However, since new cancer drugs have traditionally been developed in the West, there is an urgent need for researchers to look into the development of drugs and dosages best suited for the ethnically diverse Asian population.
Singapore, where cancer is the No. 1 killer, provides an excellent venue for such research. For instance, intriguing differences in cancer incidence exist among the different ethnic groups (Figure 1). Chinese men and women hold the top spot in incidence rates. Malays had the lowest incidence until after 1990, when their rates overtook those of the Indians. Indeed, cancer rates among Indians have been showing a steady decline.
Chinese and Malays share somewhat similar cancer patterns, but two important differences can be observed. The incidence of NPC among Singapore Chinese ranks among the highest in Asia, second only to that of Chinese in Hong Kong. Of interest is the fact that it is more common among the Cantonese-speaking dialect group and has thus been dubbed "Cantonese cancer." Researchers believe that a combination of the consumption of preserved foods and Epstein-Barr viral infection plays a role in genetically susceptible people.
The Chinese also show a higher incidence of liver cancer. Those infected by the hepatitis B virus are at especially high risk. Foreign-born Chinese have a slightly higher risk of developing liver cancer than Singapore-born Chinese. Although it remains too early to see the long-range effect of childhood immunisation against hepatitis B on the rate of liver cancer, the incidence among Singaporean Chinese males has shown an encouraging drop, from 33.2 per 100,000 to 21.6 per 100,000.
Meanwhile, Indians experience a very high incidence of cancer of the oral cavity, presumably as a result of betel nut and tobacco chewing. Fortunately, over the 30-year period studied, the incidence of this cancer among Indians has been declining.