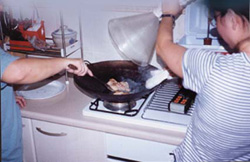 omen in Singapore have a high incidence of lung cancer. Local studies have implicated cooking fumes as one possible risk factor.
To explore this hypothesis, Associate Professor Adeline Seow at the Department of Community, Occupational and Family Medicine (COFM), National University of Singapore, conducted a case-control study from 1996 to 1998. She compared 303 women with lung cancer with 765 women with healthy lungs, both of Chinese ethnicity, to examine the possible association between meat-cooking exposure and lung cancer risk.
She found that cigarette smokers who reported that they had stir-fried daily in the past were twice as likely to develop lung cancer as smokers in the control group. The risk shot up four times if they stir-fried meat and their kitchens were filled with oily fumes during cooking. It is interesting that these cooking practices on their own did not increase the risk among non-smokers, and it is possible that the carcinogens in the fumes and in cigarette smoke exert their effects additively.
Other researchers have found evidence that the process of stir-frying meats produces heterocyclic amines, which are carcinogenic. Liver enzymes, in particular Cytochrome P4501A2 (CYP1A2) and N-acetyltransferase (NAT2), are involved in the metabolism of carcinogenic heterocyclic amines, and their activity affects the level of carcinogens to which the cells in the body are exposed.
In her study, Seow further examined the NAT2 and CYP1A2 genotype of cancer cases and controls. She noted that women with slow NAT2 and rapid CYP1A2 activity had the greatest risk of lung cancer, almost seven times higher than women with rapid NAT2 and slow CYP1A2 activity.
Although larger studies will be needed to confirm these results, the findings are consistent with the adverse effects heterocyclic arylamines may have on lung carcinogenesis. Seow and colleague Dr Koh Woon Puay are now investigating whether other aspects in the environment or diet serve as significant sources of these compounds.
For more information contact Assoc Prof Adeline Seow at cofseowa@nus.edu.sg or Dr Koh Woon Puay at cofkwp@nus.edu.sg.