by Tan Lay Leng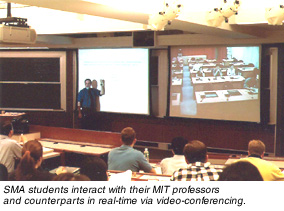 he Massachusetts Institute of Technology (MIT) stands among the top graduate schools in the United States, earning consistently high rankings for its engineering and science disciplines. The institute, however, does not rest on its laurels; it constantly strives for more innovative ways to further enhance its educational and research mission.
One bold project MIT has pioneered is the Singapore-MIT Alliance (SMA), founded in 1998 to promote global science and engineering education and research collaboration. Initiated by MIT Provost Professor Robert Brown, SMA is an innovative collaboration among MIT, the National University of Singapore (NUS), and the Nanyang Technological University (NTU). The programme provides an education that emphasises creativity and entrepreneurship with an intense, hands-on approach to research. By means of the most technologically advanced interactive distance learning facilities using high-speed Internet2 links, the students can interact in real time with their peers and lecturers 12,000 miles away.
The centre will also provide opportunities for private-sector organisations to share in SMA's research, collaborate with its students, and recruit employees.
"We are very focused on people-to-people interactions," says Brown. "So when we designed SMA with our colleagues at NUS and NTU, it was a major commitment for us. We try to figure out how to take the intense people-to-people interactions we have on our campus in Cambridge, and extend them to a node in Singapore with the students and faculty of SMA, using people on airplanes and high-bandwidth communication to get it together."
He stresses that SMA represents a model different from that of most universities trying to globalise, and the programmes offered by SMA do not constitute a distance campus or mere long-distance learning. The educational programmes and research interaction are specially designed and backed up by the latest technology for real-time communication. There is even a "Weblab" which allows students to use the Internet to conduct experiments in laboratories on the US campus. To date, this interactive distance-education and research collaboration is probably the largest in the world, involving about 50 professors from MIT and another 50 from Singapore.
The three partners have forged a commitment to extend the programme and bring it to the next level. And Brown sees the people-interaction aspect as key to its evolution. "When we think about SMA-2 (the next phase of the SMA programme), we want to refine this interaction to deepen it educationally. To forge a stronger partnership in the programme, the three institutions are planning to offer dual degrees to students - one from the university in Singapore, and one from MIT," he discloses.
The research component in SMA-2 will go deeper, involving the integration of more teaching and research staff in Singapore such that the universities will be able to create an environment that can the best faculty in the world.
Opening of Minds
MIT benefits from the cross-oceanic exchange by the changed view its participants now have on the world. For the predominantly American MIT students, the joint projects provide an opportunity to share the perspectives of their international counterparts, opening a window on Asian culture and ways of life. With this globalised interaction, SMA graduates will have a distinct edge when they embark on their working careers. For example, when they are joining a multinational corporation, this cross-cultural experience will be very useful, particularly if they get posted to locations half-way around the world.
The MIT teaching staff also benefit from the programme by being able to access facilities and expertise not available on the US campus. Likewise, their Singapore counterparts gain from the joint projects. They can even "share" laboratory equipment for virtual experiments with Weblab. Brown views the opening up of minds and outlook as probably the biggest bonus for everyone involved in the programme.
Even though on-campus education creates a community, it faces the continual challenge of being open to changes occurring in the world. MIT is determined to maintain its openness, and SMA personifies the commitment to bringing that position to an even higher level.
As far as the question whether the interactivity encourages innovation and creativity is concerned, Brown feels it is one that applies differently to different individuals. Whereas some people can create things by themselves, the majority get inspiration by bouncing ideas off like-minded people with whom they interact, looking at problems from many different perspectives.
Will SMA be relevant to the industry? Brown points out that four of the five SMA programmes offered have industrial internships or attachments so that students will work in the industry as part of their courses of study. "We do a lot of research with the industry, and our faculty and students have a great perspective on what the industry needs, but that's different from designing educational programmes for people working in the industry."
Although SMA is strategically important to MIT as a major component of the university's plan for global outreach, MIT does not intend to extend the SMA programme beyond Singapore as it is very resource-intensive. MIT has a different programme with Cambridge University in England that is about one-and-a-half years old. It started with undergraduate exchanges and research collaboration but focused less on educational programmes than SMA.
Brown rationalises the choice of Singapore as the partner for the pilot: "One reason is the value that Singapore puts on education - the vision that comes through your government and universities about higher education, and the value placed on science and engineering. So there is a real match between your universities and country and what we do well. This vision has been consistent in this country for 30 years.
"The second reason is that Singapore is an English-speaking nation, which makes the language transitions seamless for us. You have British-based universities that have many similarities to ours. This is a very hard programme to put together, and it's only possible because we can do some of these things in a relatively seamless way. The fact that the cultures are similar and the people have the same kind of value system is very important.
"The third ingredient is that we wanted to do this project in Asia. We believe that a huge number of very bright, highly motivated people are here, so we were pretty sure that if we did it right, then we could attract high-quality students."
MIT thinks that its challenge is to make the intertwining of the institutions and the collaboration as strong as possible - to see what difficulties will present themselves in the pooling of the institutions' resources and talent and in the imparting of a sense of the quality MIT possesses halfway around the world to universities here. Meeting this challenge will bring the institute a step closer to fulfilling its vision of globalising education and propagating its good name in the process.
Raising Research Quality and Entrepreneurship
Even though Singapore remains relatively young in research, Brown feels that, at the high end, the quality is every bit as good as that in the best universities in the United States. What strengths make MIT the formidable research institute it is today and what can NUS or NTU do to emulate it?
"The quality of our faculty and our students. Why does the faculty come to MIT? It's because of the quality of the students. And the students come because we have marvellous faculty."
Brown shares the secret: "It's like a circle - how does a circle ever form? I think it was the vision to focus on science and engineering that brought the faculty together. The other important thing is we hire most of our professors as young faculty. The junior faculty are ambitious, and we have an environment where they absolutely thrive and become very good very quickly. And they stay because the students are very good."
What would entice someone to be a researcher? "I think the people who will take up research as a career want to have two things: they want the excitement of not knowing what they are going to find - they want the excitement of discovery. The other is that good researchers have freedom in what they do. They set their own research agenda to some extent. As society matures, there are no clear economic incentives for acquiring a PhD; freedom and intellectual stimulation are most important," Brown notes.
In view of the local universities' growing efforts to encourage entrepreneurship, SMA offers a technopreneurship piece layered into a science and engineering programme. "You can't make an entrepreneur separately, or teach a technopreneur how to make something," he points out.
"Let me step back from the word 'entrepreneurship' and use the word 'risk.' MIT promotes people taking risks, with the idea of creating more impact. Students tackle tough problems in research projects. Faculty members define for themselves difficult research agendas. They assign hard problems to their students. All of which encourage people to push the limits of what they can do. While they are doing so, some of them will fail. A fraction of these people measure their success in terms of their impact on society by means of economic gains. This is what you'd call entrepreneurship - people who will take risks to have an impact economically.
"There's another group of people that become Nobel laureates. No laureate ever had a research agenda that wasn't risky, because risk-averse research agendas do not win Nobel prizes. When you think about how to promote the [proper research] atmosphere in Singapore, it's how you promote people who are allowed to fail when they push the limits hard."
However, Brown qualifies himself: "There's a difference between failing when you are not pushing and failing when you're pushing against something that's very hard to do. And that's what we do well across the spectrum. We have a large number of faculty who want to have economic impact - a lot of startup companies have been associated with MIT and people who do very well economically as a result."
On why entrepreneurship is lacking in Singapore, Brown notes that it boils down to culture. "The American culture deals with failure pretty well. Not only is it forgiving but also in some way it is almost rewarding. For instance, in the culture of startup companies, if a company fails, the community can understand why it fails - it's almost a badge of courage. And there's no stigma attached. That's the difference - how a culture deals with failure."
Another factor is the educational system. The British educational system makes dealing with failure hard because it polarises a student's life into a series of very small decision points, using examinations to determine major turning points such as entry into university. "In the US, the high school record is the sum of all of your experience - it's integral. It's not the few little points that define your entire life.
"The British government is concerned about making its people more entrepreneurial, just as much as the government here. The Cambridge-MIT partnership is motivated in part to create a more entrepreneurial engineering and science culture within Cambridge, for exactly the same reasons," he discloses.