by Tan Lay Leng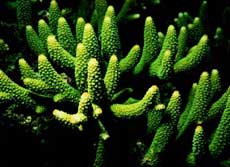 ingapore, located in a region rich in marine biological diversity, has one of the world's busiest ports and houses some of the world's largest oil refineries. Furthermore, it has an active land-reclamation programme underway because of the island's limited land mass. Ecosystem changes in response to human activity inevitably affect the marine environment; thus it is important to understand the impact of human-created alteration of that environment on the integrity of natural ecosystems.
Research conducted through the Marine Biology Programme at the National University of Singapore includes monitoring changes in marine biological diversity in Singapore and determining the ability of natural ecosystems to adapt to environmental stresses such as oil spills and sediment pollution. Researchers design computer models to predict the effects of environmental changes on marine organisms and the dynamics of ecosystems more accurately. They also work to develop methods to restore and rehabilitate damaged coral reefs.
Tropical Marine Science Institute (TMSI) investigators take a particular interest in the impact of pollution on tropical ecosystems. They are developing methods for rapid pollution detection and assessment, utilising ecological, morphological, physiological, biochemical, and molecular responses of marine organisms to acute and chronic stress from pollution. Little is known about these responses in the tropics; thus these methods have the potential to provide early recognition of ecological damage.
Diverse Projects
Current research at TMSI involves a number of projects. An inexpensive method of rapidly assessing organotin pollution in the marine environment using gastropod bioindicators is currently in the design stage, in collaboration with the Department of Chemistry, NUS. Organotins, such as tributyl-tin (TBT), constitute toxic ingredients used in marine paint to prevent fouling of ship hulls and other structures at sea. TBT demonstrates extreme effectiveness in keeping submerged surfaces free of marine growth such as algae, barnacles, keelworms, and mussels, which, if left uncontrolled, slow ships down and cause structures to corrode.
A worldwide ban on the use of TBT will come into force in a few years' time, but no one expects environmental levels to decrease anytime soon because of its universal usage and slow degradation in polluted sediment. Monitoring of environmental pollutants is expensive and time-consuming, owing to the minute quantities involved and the sophisticated instrumentation required for chemical analyses.
About 30 years ago, scientists in the US found that female marine snails, upon long-term exposure to TBT, developed male characteristics, such as a penis, a phenomenon now referred to as "imposex" or the imposition of male characters on females. More recently the discovery was made that the extent of imposex is proportional to the amount of TBT to which the snails are exposed - high environmental concentrations implied larger (pseudo)penes in females.
Scientists at TMSI now use selected indigenous marine snails living on Singapore coasts as bioindicators of TBT. They have previously verified that local marine snails show imposex (Figure 1), and researchers now direct their attention to determining whether these snails can be used as reliable and accurate indicators of organotin pollution. Ideally, by picking up a female snail and measuring the length of the pseudopenis, they can estimate the ambient level of TBT!
Similar biomarkers are also under development for use in ecotoxicological assays for rapid testing of other marine pollutants, such as oil dispersants (used in clean-up operations during oil spills) and plasticisers (used in the plastics industry to modify physical properties of plastics). These chemicals may have endocrine-disrupting properties that could affect human health as well.
The biologists have also improved the settlement and growth of reef corals, using such artificial base materials as concrete, plastics, and rubber tyres for reef rehabilitation. Methods have been developed and tested to determine the natural response of reef organisms and reef ecosystems to environmental stresses using a coral reef-productivity model with predictive capability.
The researchers are now applying predictive ecological models of the local marine environment to better understand the interactions among living organisms, bodies of water and pollution, and the impact of pollutants on biological systems in estuaries. The team has also developed refined sediment traps for field-environment measurements, as well as devising a combined phytoplankton-zooplankton field sampler for marine-environment research on both plant and animal plankton.
Ecological Models
The Marine Biology Programme has attracted international attention, which catalysed a number of collaborative activities. TMSI participates in the Global Coral Reef Monitoring Network, formed under the International Coral Reef Initiative, which is supported by the Intergovernmental Oceanographic Commission (IOC), the United Nations Environmental Programme (UNEP), and the World Conservation Union (IUCN).
Dr Tan Koh Siang of TMSI is a resource person in the Tropical Marine Mollusc Programme (TMMP), which is carried out under the auspices of the Ministry of Foreign Affairs, Denmark, and Aarhus University. TMMP has initiated many research projects and organised annual workshops and conferences over the last ten years to encourage the study of molluscs in Thailand, India, Indonesia, Malaysia, Vietnam, and Cambodia.
For more information contact:
Prof Chou Loke Ming: dbsclm@nus.edu.sg
Dr Tan Koh Siang : tmstanks@nus.edu.sg